(Tokyo | Japan )
Genki Japanese and Culture School Tokyo
Dodaj szkołę do ulubionych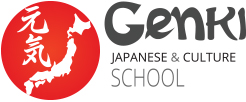 O szkole
Genki Japanese and Culture School Tokyo
Genki Japanese and Culture School is an internationally acclaimed communicational Japanese language school that offers short-term study abroad courses, learning the Japanese language and culture in a relaxed and friendly environment. We are located in the heart of Fukuoka City, in South Japan, in Tokyo close to Shinjuku station, and in Kyoto in the Gion district. 
GenkiJACS was shortlisted as one of the world's top language schools at the STM Star Awards every year from 2009 to 2018. We are one of only two Japanese language schools in the world that are accredited by IALC, the International Association of Language Centres. We offer courses in a range of areas, including conversational Japanese, pop culture, and traditional culture, all with an emphasis on practical work, inside and outside of the classroom. We can prepare a range of accommodation options including homestays and dorms, and arrange a wide range of activities.
Classes are limited to a maximum of 8 students. We accept all levels of learners, from complete beginners to advanced. All teachers are qualified, and bilingual English/Japanese. Courses start every Monday throughout the year, and run for as long as students want.
Our Tokyo branch is located in the center of the most exciting part of Tokyo, Shinjuku, so there are thousands of things to do within walking distance. However, the school is in the grounds of the famous Hanazono Shrine, so it is peaceful and quiet around, and from the classroom windows you only see trees and the shrine.
Usługi dodatkowe
Lotnisko transferowe/Stacja transferowa
Udogodnienia dla uczniów niepełnosprawnych
Doradztwo dla uczniów
Pomoc w uzyskaniu wizy
Zakwaterowanie
Zakwaterowanie u rodziny goszczącej
Zakwaterowanie u rodziny goszczącej bez uczniów posługujących się tym samym językiem ojczystym
Własne mieszkanie
W hotelu/pensjonacie
Dom studencki
Praca i dalsza nauka
Doświadczenie zawodowe/ praktyki w lokalnych firmach
Zajęcia
Taniec
Film
Literatura
Muzyka
Teatr
Gotowanie
Turystyka kulturalna (teatr, muzyka, itp.)
Moda
Zwiedzanie zabytków historycznych
Historia
Wydarzenia na terenie kampusu
Wolontariat
Uniwersyteckie imprezy towarzyskie dla studentów
Wprowadzenie do różnic kulturowych
Lokalne wydarzenia kulturalne (festiwale, itp.)
Kursy
Japoński ogólny
92% Recenzje: 9
Ten kurs jest przeznaczony dla uczniów w wieku:: 16-70
Typ lokalizacji: Wybrzeże, Miasto
Poziomy: Poziom podstawowy, Średnio-zaawansowani
Godziny w tygodniu: Tryb normalny 15-25 godz./tydz.
Our Standard Japanese course has 20 classes per week, usually divided into 10 grammar, and 10 four-skills "application" classes, where you learn to use your Japanese in real-life situations. All classes are held in very small groups, with a maximum of 8 students per class, and topics are focused on practical communication skills for daily life. You'll be speaking and understanding Japanese in no time!
Broszury
Recenzje
Co mówią uczniowie
Podziel wg:
Filmiki
Ta szkoła nie dodała żadnych filmików
Poznaj cenę