(Tokyo | Japan )
Genki Japanese and Culture School Tokyo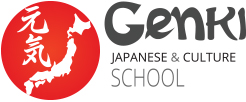 À propos
Genki Japanese and Culture School Tokyo
Genki Japanese and Culture School is an internationally acclaimed communicational Japanese language school that offers short-term study abroad courses, learning the Japanese language and culture in a relaxed and friendly environment. We are located in the heart of Fukuoka City, in South Japan, in Tokyo close to Shinjuku station, and in Kyoto in the Gion district. 
GenkiJACS was shortlisted as one of the world's top language schools at the STM Star Awards every year from 2009 to 2018. We are one of only two Japanese language schools in the world that are accredited by IALC, the International Association of Language Centres. We offer courses in a range of areas, including conversational Japanese, pop culture, and traditional culture, all with an emphasis on practical work, inside and outside of the classroom. We can prepare a range of accommodation options including homestays and dorms, and arrange a wide range of activities.
Classes are limited to a maximum of 8 students. We accept all levels of learners, from complete beginners to advanced. All teachers are qualified, and bilingual English/Japanese. Courses start every Monday throughout the year, and run for as long as students want.
Our Tokyo branch is located in the center of the most exciting part of Tokyo, Shinjuku, so there are thousands of things to do within walking distance. However, the school is in the grounds of the famous Hanazono Shrine, so it is peaceful and quiet around, and from the classroom windows you only see trees and the shrine.
Services supplémentaires
Transfert aéroport/gare
Infrastructures pour étudiants en situation de handicap
Orientation pour étudiants
Facilitation des démarches pour l'obtention d'un visa
Logement
Logement en familles d'accueil
Logement en familles d'accueil où il n'y a pas d'étudiants de même langue maternelle
En appartement propre
En hôtel/auberge de jeunesse
Résidence étudiante
Travail et études supplémentaires
Expérience professionnelle/ stage dans des entreprises locales
Activités
Danse
Cinéma
Littérature
Musique
Théâtre
Cuisine
Tourisme culturel (théâtre, musées, etc.)
Mode
Visites de lieux historiques
Histoire
Evènements sur le campus
Bénévolat
Activités sociales pour étudiants universitaires
Présentation d'adaptation à la nouvelle culture
Activités culturelles locales (festivals, etc.)
Cours
Cours de Japonais général
92% 9 Commentaires
Ce cours s'adresse aux étudiants âgés: 16-70
Type de lieu: Bord de mer, Ville moyenne/grande
Niveaux: Elémentaire, Intermédiaire
Nombre d'heures hebdomadaires: Général (15-25 h/semaine)
Our Standard Japanese course has 20 classes per week, usually divided into 10 grammar, and 10 four-skills "application" classes, where you learn to use your Japanese in real-life situations. All classes are held in very small groups, with a maximum of 8 students per class, and topics are focused on practical communication skills for daily life. You'll be speaking and understanding Japanese in no time!
Brochures
Commentaires
Ce que disent les apprenants
Trier par:
Vidéos
Cette école n'a pas ajouté de vidéos
Obtenir le prix