(Tokyo | Japan )
Genki Japanese and Culture School Tokyo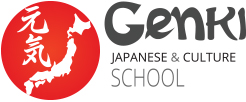 Über
Genki Japanese and Culture School Tokyo
Genki Japanese and Culture School is an internationally acclaimed communicational Japanese language school that offers short-term study abroad courses, learning the Japanese language and culture in a relaxed and friendly environment. We are located in the heart of Fukuoka City, in South Japan, in Tokyo close to Shinjuku station, and in Kyoto in the Gion district. 
GenkiJACS was shortlisted as one of the world's top language schools at the STM Star Awards every year from 2009 to 2018. We are one of only two Japanese language schools in the world that are accredited by IALC, the International Association of Language Centres. We offer courses in a range of areas, including conversational Japanese, pop culture, and traditional culture, all with an emphasis on practical work, inside and outside of the classroom. We can prepare a range of accommodation options including homestays and dorms, and arrange a wide range of activities.
Classes are limited to a maximum of 8 students. We accept all levels of learners, from complete beginners to advanced. All teachers are qualified, and bilingual English/Japanese. Courses start every Monday throughout the year, and run for as long as students want.
Our Tokyo branch is located in the center of the most exciting part of Tokyo, Shinjuku, so there are thousands of things to do within walking distance. However, the school is in the grounds of the famous Hanazono Shrine, so it is peaceful and quiet around, and from the classroom windows you only see trees and the shrine.
Zusätzliche Services
Flughafen/Bahnhof-Transfer
Einrichtungen für Studenten mit Beeinträchtigungen
Studienberatung
Visa Unterstützung
Unterbringung
Unterbringung bei Gastfamilie
Unterbringung bei Gastfamilie ohne Schüler der selben Muttersprache
Eigenes Apartment
In Hotel/Gästehaus
Studentenwohnheim
Jobs und Studiengänge
Arbeitserfahrung / Praktika bei lokalen Firmen
Freizeitangebot
Tanzen
Film
Literatur
Musik
Theater
Kochen
Kulturtourismus (Theater, Museum, etc.)
Mode
Besichtigung von historischen Sehenswürdigkeiten
Geschichte
Veranstaltungen auf dem Campus
Ehrenamtliche Arbeit
Studentenveranstaltungen
Einführung in die kulturellen Unterschiede
Kulturelle Veranstaltungen vor Ort (Festivals, etc.)
Kurse
Allgemeines Japanisch
93% 11 Bewertungen
This course is for students aged: 16-70
Ort des Aufenthalts: Küste, Stadt
Levels: Grundstufe, Mittelstufe
Wochenstunden: Standard (15-25 Stunden/Woche)
Our Standard Japanese course has 20 classes per week, usually divided into 10 grammar, and 10 four-skills "application" classes, where you learn to use your Japanese in real-life situations. All classes are held in very small groups, with a maximum of 8 students per class, and topics are focused on practical communication skills for daily life. You'll be speaking and understanding Japanese in no time!
Japanisch online
This course is for students aged: 16-70
Wochenstunden: Entspannt 10-15 Stunden/Woche
Levels: Fortgeschrittene, obere Mittelstufe, Grundstufe, Mittelstufe
Größe der Klassen: Mittel, 6-10 Schüler, Klein, 2-5 Schüler, Einzelunterricht
Online lessons with GenkiJACS offer the best of both worlds: our passion, expertise and innovation in the field of Japanese language learning, but available anywhere on Earth! If you can't make it all the way to Japan, give our online Japanese lessons a try, and you'll soon understand why our school is regularly voted one of the world's best language schools! We offer both group lessons and private lessons through an online format.

Do you prefer studying in groups? Talk to your teachers and classmates, do your homework, take tests, engage in pair work, and get feedback on your progress, all from the comfort of your own home. Our interactive, engaging lessons have been designed specifically to give you the best educational experience possible in an online medium. Classes are divided into small groups at very specific levels, so there's sure to be a class that's just right for you.

Would you prefer a more personal touch? Online private lessons always have you at the centre. We will literally be bridging gaps of space and time to make sure that you can cross oceans and continents with a click of a button.
Brochüren
Bewertungen
Was unsere Sprachschüler sagen
Sortieren nach:
Videos
Diese Schule hat keine Videos hinzugefügt
Preis abfrage