(Tokyo | Japan )
Genki Japanese and Culture School Tokyo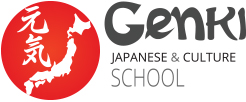 Informazioni
Genki Japanese and Culture School Tokyo
Genki Japanese and Culture School is an internationally acclaimed communicational Japanese language school that offers short-term study abroad courses, learning the Japanese language and culture in a relaxed and friendly environment. We are located in the heart of Fukuoka City, in South Japan, in Tokyo close to Shinjuku station, and in Kyoto in the Gion district. 
GenkiJACS was shortlisted as one of the world's top language schools at the STM Star Awards every year from 2009 to 2018. We are one of only two Japanese language schools in the world that are accredited by IALC, the International Association of Language Centres. We offer courses in a range of areas, including conversational Japanese, pop culture, and traditional culture, all with an emphasis on practical work, inside and outside of the classroom. We can prepare a range of accommodation options including homestays and dorms, and arrange a wide range of activities.
Classes are limited to a maximum of 8 students. We accept all levels of learners, from complete beginners to advanced. All teachers are qualified, and bilingual English/Japanese. Courses start every Monday throughout the year, and run for as long as students want.
Our Tokyo branch is located in the center of the most exciting part of Tokyo, Shinjuku, so there are thousands of things to do within walking distance. However, the school is in the grounds of the famous Hanazono Shrine, so it is peaceful and quiet around, and from the classroom windows you only see trees and the shrine.
Servizi aggiuntivi
Trasferimento aeroporto / stazione
Strutture per studenti disabili
Consulenza agli studenti
Assistenza per visti
Alloggio
Alloggio in famiglia ospitante
Alloggio in famiglia ospitante senza studenti della stessa lingua madre
Appartamento
In hotel / pensione
Casa dello studente
Lavoro e ulteriori studi
Esperienza di lavoro / stage presso aziende locali
Attività
Ballo
Film
Letteratura
Musica
Teatro
Apparecchi di cottura
Turismo culturale (teatro, museo, etc.)
Moda
Visite della città storica
Storia
Eventi sul campus
Volontariato
Eventi sociali studenti universitari
Presentazione shock culturale
Eventi locali culturali (festival, ecc)
Corsi
Generale Giapponese
92% 9 Recensioni
Questo corso è riservato agli studenti di età compresa: 16-70
Tipo di località: Mare, Città
Livelli: Principanti, Intermedio
Ore settimanali: Generale 15-25 ore / settimana
Our Standard Japanese course has 20 classes per week, usually divided into 10 grammar, and 10 four-skills "application" classes, where you learn to use your Japanese in real-life situations. All classes are held in very small groups, with a maximum of 8 students per class, and topics are focused on practical communication skills for daily life. You'll be speaking and understanding Japanese in no time!
Brochure
Recensioni
Cosa stanno dicendo gli studenti
Ordina per:
Video
Questa scuola non ha aggiunto nessun video
Ottieni prezzo