(Tokyo | Japan )
Genki Japanese and Culture School Tokyo
Marcar escuela como favorita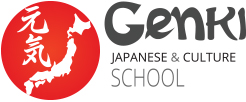 Sobre
Genki Japanese and Culture School Tokyo
Genki Japanese and Culture School is an internationally acclaimed communicational Japanese language school that offers short-term study abroad courses, learning the Japanese language and culture in a relaxed and friendly environment. We are located in the heart of Fukuoka City, in South Japan, in Tokyo close to Shinjuku station, and in Kyoto in the Gion district. 
GenkiJACS was shortlisted as one of the world's top language schools at the STM Star Awards every year from 2009 to 2018. We are one of only two Japanese language schools in the world that are accredited by IALC, the International Association of Language Centres. We offer courses in a range of areas, including conversational Japanese, pop culture, and traditional culture, all with an emphasis on practical work, inside and outside of the classroom. We can prepare a range of accommodation options including homestays and dorms, and arrange a wide range of activities.
Classes are limited to a maximum of 8 students. We accept all levels of learners, from complete beginners to advanced. All teachers are qualified, and bilingual English/Japanese. Courses start every Monday throughout the year, and run for as long as students want.
Our Tokyo branch is located in the center of the most exciting part of Tokyo, Shinjuku, so there are thousands of things to do within walking distance. However, the school is in the grounds of the famous Hanazono Shrine, so it is peaceful and quiet around, and from the classroom windows you only see trees and the shrine.
Otros servicios
Traslado y recogida en el aeropuerto o estación ferroviaria
Instalaciones para estudiantes con discapacidades
Orientación al estudiante
Ayuda para la tramitación de visado
Alojamiento
Alojamiento en familias de acogida
Alojamiento en familias de acogida donde no haya estudiantes de la misma lengua materna
En apartamento propio
En hotel/pensión
Student Residence
Trabajo y cursar otros estudios
Experiencia laboral/Prácticas en empresas locales
Actividades
Danza
Cine
Literatura
Música
Teatro
Cocina
Turismo cultural (teatros, museos, etc.)
Moda
Visitas a lugares históricos
Historia
Actividades en el campus
Voluntariado
Actividades sociales para estudiantes universitarios
Presentación de adaptación a la nueva cultura
Actividades culturales locales (festivales, etc.)
Cursos
Cursos de Japonés general
93% 10 Opiniones
This course is for students aged: 16-70
Tipo de ubicación: Costa, Ciudad mediana/grande
Niveles: Básico, Intermedio
Horas semanales: General (15-25 horas semanales)
Our Standard Japanese course has 20 classes per week, usually divided into 10 grammar, and 10 four-skills "application" classes, where you learn to use your Japanese in real-life situations. All classes are held in very small groups, with a maximum of 8 students per class, and topics are focused on practical communication skills for daily life. You'll be speaking and understanding Japanese in no time!
Folletos
Opiniones
Lo que dicen los estudiantes
Ordenar por:
Vídeos
Esta escuela no ha publicado ningún vídeo
Obtenga Precio