(Montreal | Canada )
Montreal International Institute of Language Arts (MIILA)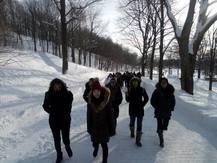 8255 Mountain Sights #150
,
Montréal
(
view map
)
Informazioni
Montreal International Institute of Language Arts (MIILA)
Our beautiful institution is located five minutes from the metro station De la Savane. MIILA offers you a cosmopolitan language-learning experience in a cozy and familial environment. Small classes provide you with personal lessons catered to your ability, and the extracurricular activities organized by the school will guide you through the diverse cultural and social activities that Montreal has to offer, no matter the weather! Our diverse variety of students is reflected by our multinational staff, in an open and friendly atmosphere that will become your home away from home. Speaking of home, our carefully selected home stays and residences will guarantee you a comfortable and safe environment. Our institution offers a large variety of services to help make your stay spectacular. You can benefit from Internet access, lunch and lounge area, as well as a convenient location that allows you to be close to most tourist spots in the city, like the Old Port, the Underground City, Mont-Royal, and many more.
Servizi aggiuntivi
Trasferimento aeroporto / stazione
Consulenza agli studenti
Assistenza per visti
Alloggio
Alloggio in famiglia ospitante
Appartamento
In hotel / pensione
Lavoro e ulteriori studi
Studente legalmente autorizzati a lavorare / guadagnare soldi durante corso
Ulteriori studi accademici disponibili sul campus
Esperienza di lavoro / stage presso aziende locali
Attività
Moda
Visite della città storica
Eventi sul campus
Sport professionistico
Eventi locali culturali (festival, ecc)
Corsi
Generale Francese
88% 6 Recensioni
Questo corso è riservato agli studenti di età compresa: 16-70
Tipo di località: Città
Livelli: Avanzato, Principanti, Intermedio
Dimensione delle classi: Medio, 6-10 studenti
Ore settimanali: Rilassato 10-15 ore / settimana, Generale 15-25 ore / settimana, Intensivo 25+ ore / settimana
French as a Second Language (FSL)
M.I.I.L.A. offers 11 levels of FSL, at different intensities: part-time, full-time and intensive. Depending on your level, your classes will either be in the morning or in the afternoon. All schedules include two 10-mminute breaks.
Generale Inglese
90% 6 Recensioni
Questo corso è riservato agli studenti di età compresa: 16-70
Tipo di località: Città
Livelli: Avanzato, Principanti, Intermedio
Dimensione delle classi: Medio, 6-10 studenti, Individuale
Ore settimanali: Rilassato 10-15 ore / settimana, Generale 15-25 ore / settimana, Intensivo 25+ ore / settimana
M.I.I.L.A. offers 12 levels of ESL, at different intensities: part-time, full-time and intensive. Depending on your level, your classes will either be in the morning or in the afternoon. All schedules include two 10-minute breaks.

Intensities
Inten­si­ties Hours/week Hours/day Lessons/week – (50 min) Days of the week Ten­ta­tive Schedule
Part-time 15 3 18 Mon­day to Friday Choose 15 hrs of courses
Inten­sive 22.5 4.5 27 Mon­day to Friday 9:00 am – 1:30 pm or 1:30 pm to 6:00 pm
Super-intensive 30 6 36 Mon­day to Friday 9:00 am – 3:30 pm or 12:00 pm – 6:00 pm
Brochure
Recensioni
Cosa stanno dicendo gli studenti
Ordina per:
Video
Questa scuola non ha aggiunto nessun video
Ottieni prezzo