(Montreal | Canada )
Montreal International Institute of Language Arts (MIILA)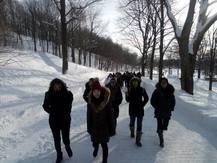 8255 Mountain Sights #150
,
Montréal
(
view map
)
À propos
Montreal International Institute of Language Arts (MIILA)
Our beautiful institution is located five minutes from the metro station De la Savane. MIILA offers you a cosmopolitan language-learning experience in a cozy and familial environment. Small classes provide you with personal lessons catered to your ability, and the extracurricular activities organized by the school will guide you through the diverse cultural and social activities that Montreal has to offer, no matter the weather! Our diverse variety of students is reflected by our multinational staff, in an open and friendly atmosphere that will become your home away from home. Speaking of home, our carefully selected home stays and residences will guarantee you a comfortable and safe environment. Our institution offers a large variety of services to help make your stay spectacular. You can benefit from Internet access, lunch and lounge area, as well as a convenient location that allows you to be close to most tourist spots in the city, like the Old Port, the Underground City, Mont-Royal, and many more.
Services supplémentaires
Transfert aéroport/gare
Orientation pour étudiants
Facilitation des démarches pour l'obtention d'un visa
Logement
Logement en familles d'accueil
En appartement propre
En hôtel/auberge de jeunesse
Travail et études supplémentaires
L'apprenant a l'autorisation légale de travailler/ gagner de l'argent pendant le cours
Autres cours universitaires disponibles sur le campus
Expérience professionnelle/ stage dans des entreprises locales
Activités
Mode
Visites de lieux historiques
Evènements sur le campus
Evènements sportifs professionnels
Activités culturelles locales (festivals, etc.)
Cours
Cours de Français général
88% 6 Commentaires
Ce cours s'adresse aux étudiants âgés: 16-70
Type de lieu: Ville moyenne/grande
Niveaux: Avancé, Elémentaire, Intermédiaire
Nombre d'étudiants par classe: Moyen, 6-10 étudiants
Nombre d'heures hebdomadaires: Relax (10-15 h/semaine), Général (15-25 h/semaine), Intensif (>25 h/semaine)
French as a Second Language (FSL)
M.I.I.L.A. offers 11 levels of FSL, at different intensities: part-time, full-time and intensive. Depending on your level, your classes will either be in the morning or in the afternoon. All schedules include two 10-mminute breaks.
Cours de Anglais général
90% 6 Commentaires
Ce cours s'adresse aux étudiants âgés: 16-70
Type de lieu: Ville moyenne/grande
Niveaux: Avancé, Elémentaire, Intermédiaire
Nombre d'étudiants par classe: Moyen, 6-10 étudiants, Particulier
Nombre d'heures hebdomadaires: Relax (10-15 h/semaine), Général (15-25 h/semaine), Intensif (>25 h/semaine)
M.I.I.L.A. offers 12 levels of ESL, at different intensities: part-time, full-time and intensive. Depending on your level, your classes will either be in the morning or in the afternoon. All schedules include two 10-minute breaks.

Intensities
Inten­si­ties Hours/week Hours/day Lessons/week – (50 min) Days of the week Ten­ta­tive Schedule
Part-time 15 3 18 Mon­day to Friday Choose 15 hrs of courses
Inten­sive 22.5 4.5 27 Mon­day to Friday 9:00 am – 1:30 pm or 1:30 pm to 6:00 pm
Super-intensive 30 6 36 Mon­day to Friday 9:00 am – 3:30 pm or 12:00 pm – 6:00 pm
Brochures
Commentaires
Ce que disent les apprenants
Trier par:
Vidéos
Cette école n'a pas ajouté de vidéos
Obtenir le prix