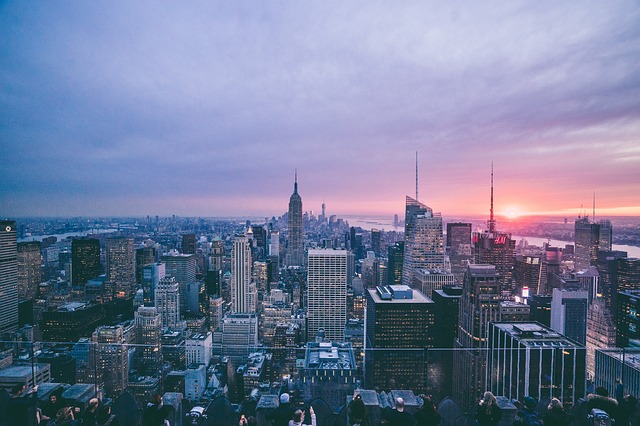 Explore New York for free
New York is the biggest city in USA and one of the biggest in the world. Every year people come to NYC to try their luck at making their dreams come true. It is the center of finance, commerce, arts, fashion, entertainment, media, education, technology and research.  New York requires adjusting to its fast pace, but when you do you can benefit from all it has to offer. Despite being one of the most expensive cities in the world there are many things you can see and do in New York for completely free. Check out our list of free NYC attractions, museums, parks and more.
If you are considering studying in the USA and want to experience the American student lifestyle register for the Virtual Fair and find out how you can #studyinUSA
ATTRACTIONS AND THINGS TO SEE:
Statue of Liberty
Take the free Staten Island ferry to admire this impressive statue and symbol of New York. It is a colossal neoclassical sculpture designed by Frédéric Auguste Bartholdi and built by Gustave Eiffel.
https://www.nps.gov/stli/index.htm
Times Square
This luminous and exciting symbol of New York is located in Midtown Manhattan, it is a major commercial intersection and a popular neighborhood. This place can be a little bit overwhelming but taking a picture here will make a memory of a life time.
https://www.timessquarenyc.org/index.aspx
Brooklyn Heights Promenade
This 557m-long pedestrian walkway offers great views at the Statue of Liberty, Manhatta skyline and the Brooklyn Bridge.
https://www.nycgovparks.org/parks/brooklyn-heights-promenade/map
Chrysler Building
This impressive, 319m-tall building was built in the Art Deco architectural style and has 77 floors. It was designed by William Van Alen. It's an office building.
Coney Island Boardwalk
Actually called Riegelmann Boardwalk but referred to by many as the Coney Island Boardwalk. Features the Coney Island Cyclone roller coaster, the Wonder Wheel Ferris wheel and the New York Aquarium.
https://www.nycgovparks.org/parks/coney-island-beach-and-boardwalk/
Flatiron Building
Originally called the Fuller Building is a triangularly-shaped building with 22 stories. It is considered to be a ground breaking sky scraper due to its original shape.
Governor's Island
Take a ferry to the island and explore it for free. There you can enjoy the beautiful green space for picnics, bike rides or to play golf, you can also explore military sites.
New York Public Library
The library was founded in 1895 and houses an impressive number of nearly 53 million items. The building itself is extraordinary, it's the largest marble structure ever built in USA. The New York Public Library holds the original copy of the Declaration of Independence and the Gutenberg Bible.
Free Kayaking
Enjoy free kayaking along the Hudson River.
https://www.downtownboathouse.org/free-kayaking/
RELAX IN THESE PARKS, GARDENS AND GREEN SPACES:
Central Park
The most visited urban park in the USA. Features many tourist attractions such as the Belvedere Castle, Carousel, two ice rinks, a zoo and more. Also a popular filming location.
https://www.nycgovparks.org/parks/central-park
Battery Park
This public park features quite a few memorials such as The Sphere, Hope Garden, American Merchant Mariners' Memorial and the East Coast Memorial.
High Line
Also called the High Line Park is a linear park built on an elevated section of abandoned railroad tracks.
Flushing Meadows-Corona Park
This park is the site of two twentieth century World's Fairs, it also features a recreation complex, a zoo, a botanical garden, a science museum, an art museum and a baseball stadium.
https://www.nycgovparks.org/parks/flushing-meadows-corona-park
East River State Park
Also known as Willamsburg waterfront although not that impressive itself offers a breathtaking view of Manhattan.
https://nysparks.com/parks/155/details.aspx
Brooklyn Botanic Garden
Free on Tuesdays and 10 am – noon on Saturdays and during winter on weekdays. The botanic garden features various plant collections, three climate-themed plant pavilions, a glass aquatic plant house, an art gallery and a Japanese Hill and Pond.
Green-Wood Cemetery
Founded in 1838, there are about 600000 people buried there. It's very green and features a Gothic revival northern entrance, a Chapel built in 1911 by Warren and Wetmore, Battle Hill (which is Brooklyn's highest point), a Revolutionary War site with a statue of Minerva, the Roman goddess of wisdom.
CHECK OUT THESE MUSEUMS, GALLERIES AND MORE:
American Museum of Natural History
Free entrance during the last hour (4.45-5.45pm). The museum consists of 27 interconnected building with 45 permanent exhibition halls. There is also a planetarium and a library. The highlights include the Fossil Halls with almost 600 specimens, the Rose Center for Earth & Space and its  planetarium as well as the Butterfly Conservatory with over 500 butterlies.
Museum of Modern Art (MoMA)
Free entry on Fridays between 4 and 8 pm. MoMA houses the collection of modern and contemporary art and includes work of architecture, design, painting, drawing, photography, sculpture, prints, film and more. Home to such great paintings as Pablo Picasso's Les Demoiselles d'Avignon, Claude Monet's Reflections of the Clouds on the Water-Lily Pond, Paul Cezanne's The Bather, Salvador Dali's The Persistance of Memory, Vincent van Gogh's The Starry Night and Andy Warhol's Campbell's Soup Cans.
New York City Hall
Built in 1811 is the oldest city hall building which still houses its original functions (Mayor's office and chambers of NYV Council). Impressive architecturally and designed in the French Renaissance Revival style. Tours are free of charge.
https://www1.nyc.gov/site/designcommission/public-programs/tours/public-tours.page
African Burial Ground National Monument and Museum
Educational and moving history of slaves in early New York. The burial ground was discovered during a construction project, more than 400 caskets were found. The museum and outdoor monument are free of charge.
https://www.nps.gov/afbg/index.htm
Brooklyn Brewery
There are free tours on the weekends, Saturday 1-5pm and Sunday 1-4pm, but these don't include tastings. What a shame! Visit to explore the history of brewery and beer making.
https://brooklynbrewery.com/verify
Fashion Institute of Technology Museum
Over  50000 items of garments, textiles and accessories dating from the 18th century until now.
https://www.fitnyc.edu/museum/
Chelsea galleries
Check out the abundance of free galleries in Chelsea.
https://chelseagallerymap.com/
Federal Hall
This Greek Revival masterpiece houses a museum of postcolonial New York.
https://www.nps.gov/feha/index.htm
Federal Reserve Bank of New York
Visit to take a peak (unfortunately only briefly) at the high-security vault, which houses over 10000 tons of gold reserves, 80 feet below the ground. It's free and very popular so make sure to reserve a spot on the tour a couple of months ahead!
Check out the websites below for free concerts and events:
https://www.clubfreetime.com/new-york-city-nyc/free-events-things-to-do/today/activities
https://nycfreeconcerts.com/events-2/#sthash.eca78zVQ.dpbs
https://fortune.com/2016/02/21/nyc-wifi-hotspots/
If you are looking to learn languages in New York check out these schools.
Follow us on Facebook and Twitter and don't miss another article on CourseFinders.com
Find your perfect language school
Search CourseFinders to find the course for you