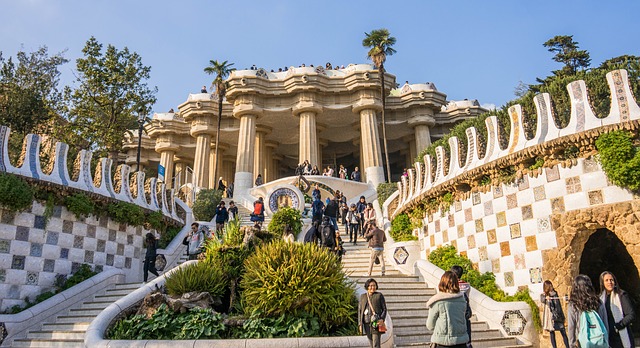 Explore Barcelona for free
Due to its location, cultural heritage and status Barcelona is a popular tourist destination. It is Spain's second most populated city. Although it can get expensive, don't forget that there are always things you can do for free and we don't just mean walking in a park. Check our list of things to do for free in the beautiful city of Barcelona.
EXPLORE MUSEMS
Most museums have free admission at least once a month, take advantage of that and get to know the history and culture for free.
Museu Picasso
This extraordinary museum houses 4251 art pieces by the famous Spanish artist. The museum is located in five palaces dating back to the 13th century. Free entrance on every first Sunday of the month and on other Sundays from 3 to 8 pm.
https://www.museupicasso.bcn.cat/
Museu d'Història de Barcelona
This museum exhibits and researches the historical heritage of Barcelona dating back to the Roman times until the present day. Free entrance on every first Sunday of the month and on other Sundays from 3 to 8 pm.
https://museuhistoria.bcn.cat/
Museu Nacional d'Art de Catalunya
The National Art Museum of Catalonia holds a collection of 290000 art pieces including a collection Romanesque church paintings and Catalan art work and design from the turnover of the 19th and 20th century. Free entrance on every first Sunday of the month.
https://www.museunacional.cat/ca
APRECIATE ARCHITECTURE
You need to pay a fee to check out the interiors but the very impressive exteriors are free for all so save your money and admire the breathtaking architectural designs.
La Sagrada Familia
The UNESCO World Heritage site's full name is Basilica i Temple Expiatori de la Sagrada Familia and it is a monumental Catholic church designed by Antoni Gaudi, famous Spanish architect. It's construction is still incomplete and is estimated for years 2026-2028.
https://www.sagradafamilia.org/
Arc de Triomf
This memorial arch was built for Barcelona World Fair in 1888 as the main gate. It's style is Neo-Mudéjar and was built by Josep Vilaseca i Casanovas.
https://www.barcelonaturisme.com/wv3/en/page/1211/.html
Casa Amatller
It is a building in Catalan modernism style designed by Josep Puig i Cadafalch, which originally was designed as the house of chocolatier Antoni Amatller.
Casa Batlló
Another Modernisme gem which is locally called the house of bones due to its appearance was designed by Antoni Gaudi.
Torre Agbar
This impressive 38-story skyscraper measures a total of 50693 square meters. The combination of aluminum and glass give it its original look.
https://www.torreagbar.com/home.asp
TAKE A WALK
Take a stroll through these beautiful locations and take the view in, enjoy nature, get to know the city and more.
Park Güell
This park located on Carmel Hill combines nature with architecture and features works by Antonio Gaudi and it was his work which got the park to be declared a World Heritage Site by UNESCO.
La Rambla
A popular street in the center of Barcelona which is essentially a pedestrian boulevard filled with tourists and locals alike. It is beautifully lined with trees and filled with cafes, kiosks and shops.
https://www.barcelonaturisme.com/wv3/en/page/160/la-rambla.html
Parc de Joan Miró
This park is the home to the famous sculpture Woman and Bird by Joan Miró which is 22 meters high. Enjoy pines, evergreen oaks and pergolas along with breath of fresh air.
Somorrostro Beach
A popular beach with a lot of history, back in 19th century and the beginning of the 20th century the beach was inhabited by 15000 people living in slums.
Park de la Ciutadella
A park, created in the middle of the 19th century, which features the city zoo, a great fountain designed by Josep Fontserè, a small lake and the Parliament of Catalonia.
https://www.barcelonaturisme.com/wv3/en/page/380/parc-de-la-ciutadella.html
Montjuïc
This is a hill in Barcelona and also a popular district which features fortifications, spectacular Font Màgica (Magic Fountain), Palau Nacional which houses Museu Nacional d'Art de Catalunya, a cemetery, botanical gardens and more.
La Barceloneta Beach
Popular sandy beach with a lot of nightclubs and restaurants along the boardwalk.
Plaça Reial
This is a square in the Barri Gòtic distric of Barcelona which is very popular amongst tourists. There you will find many restaurants, nightclubs, also many outdoor activities including concerts.
If you are looking to learn languages in Barcelona check out these schools.
Follow us on Facebook and Twitter and don't miss another article on CourseFinders.com
Find your perfect language school
Search CourseFinders to find the course for you