(Houston | United States )
University of Houston - Downtown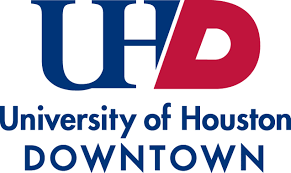 One Main Street, Suite 606-S
,
Houston
(
view map
)
Informazioni
University of Houston - Downtown
The English Language Institute helps international students learn English language skills and make cultural adjustments to a new country. We focus on your safety and comfort, your understanding of the U.S. culture, your enjoyment during your time with us, and your fast, comprehensive mastery of English. All of our services and programs are designed with these goals in mind.

Services available for you at the university:
- UHD Student Health Center (if you have UHD medical insurance)
- UHD Facilities (gym, library, cafeteria)
- UHD Counseling Center (mental health)
- UHD International Student Advisor
- UHD International Student Organization
- ELI Orientation
- ELI Language and Computer Labs
- ELI Activities and Parties
- ELI Fieldtrip and Tours
- ELI Scholarship
- ELI Letters and Transcripts
- ELI Morning Coffee Service
- ELI Free Friday Popcorn

The city of Houston covers 634 sq. miles and lies 50 miles inland from the Gulf of Mexico. The Greater Houston area (Houston and its suburbs) covers about 8,778 sq. miles, which makes it the fourth largest city in the United States. About 2.1 million people from different cultures live in Houston, and more than 5.95 million individuals live in its seven-county metropolitan region. Houston is peaceful and green, with many luxurious, wooded areas. The city's climate is mild and sunny throughout the year, with an average temperature of 83 degrees in the summer. Winters are relatively mild and comfortable, averaging 56 degrees. Houston only has about 20 days a year with low temperatures near freezing.
Alloggio
Alloggio in famiglia ospitante
Appartamento
In hotel / pensione
Attività
Turismo culturale (teatro, museo, etc.)
Visite della città storica
Eventi sul campus
Volontariato
Eventi sociali studenti universitari
Corsi
Generale Inglese
0% 0 Recensioni
Questo corso è riservato agli studenti di età compresa: 16-70
Livelli: Avanzato, Principanti, Intermedio
Dimensione delle classi: Grande, 11-20 studenti, Medio, 6-10 studenti, Individuale, Piccolo, 2-5 studenti
Ore settimanali: Generale 15-25 ore / settimana, Intensivo 25+ ore / settimana

INTENSIVE ENGLISH PROGRAM
We offer a 7-level Intensive English Program (IEP) for students and professionals wishing to improve their language skills for university study or professional use. Extensive software, videos, activities, fieldtrips, orientations, and free classes help students progress quickly.

Course options:
1. LOWER LEVEL COURSES​​
- focus on basic language learning
- train students to communicate with each other and with native English speakers
- teach students grammar, vocabulary and reading, listening and speaking, and participation in writing clinics

2. INTERMEDIATE LEVEL COURSES​​
- develop basic skills toward an academic application
- rehearse language in alternate structures
- develop English skills through the study of grammar, listening and speaking, reading and participation in writing clinics

3. ADVANCED LEVEL COURSES​​
- improve language proficiency
- provide instruction in academic note-taking, study methods, presentation - techniques and library research
- provide the necessary transition from language study to university study
- develop English skills through the study of grammar, listening and speaking, and participation in writing and reading clinics
Affari Inglese
0% 0 Recensioni
Questo corso è riservato agli studenti di età compresa: 16-70
Livelli: Avanzato, Principanti, Intermedio
Ore settimanali: Rilassato 10-15 ore / settimana

WEDNESDAY EVEN​ING ​​BUSINESS ENGLISH SERIES
We will focus on the following areas:
- Cross-cultural communication
- Business writing
- Industry-specific vocabulary
- Negotiating
- Presentation skills
- Verbal fluency

Program benefits:
- Flexible hybrid course: The Wednesday Evening Business English series is offered in a convenient hybrid delivery format, blending eight hours of online learning with twelve hours of face-to-face instruction delivered in two-hour classes each Wednesday for six weeks.
- Online preparation materials: Participants complete approximately eight hours of coursework online throughout the course, which ensures that the most essential business English communication principles, grammar and vocabulary are covered before class.
- Convenient learning options: The flexible delivery method of this course enables busy working professionals to complete coursework at their own pace, whenever and wherever it is most convenient for them.
- Highly trained instructors: Our business English instructors are all highly trained, hold master's degrees, and have years of professional experience in the field of language education.


PRIVATE BUSINESS ENGLISH TRAINING
The Private Business English Training program offers tailor-made corporate English training designed to meet specific needs in virtually any industry. Providing an immediate solution, this service is the most flexible and efficient way to target a trainee's individual language learning needs. We also offer personalized seminars and workshops to area businesses and their employees. Training can take place at UHD or at a trainee's office in the Houston area. Course duration and content can be tailored for each client individually.

We will focus on the following areas:
- Presentations
- Negotiations
- Business writing (email writing, technical writing, reports, etc.)
- Cross-cultural communication
- Intensive training for business events (e.g. conference, job interview, etc.)
Corsi di Inglese su misura
0% 0 Recensioni
Questo corso è riservato agli studenti di età compresa: 16-70
Livelli: Avanzato, Principanti, Intermedio

PRIVATE BUSINESS ENGLISH TRAINING
The Private Business English Training program offers tailor-made corporate English training designed to meet specific needs in virtually any industry. Providing an immediate solution, this service is the most flexible and efficient way to target a trainee's individual language learning needs. We also offer personalized seminars and workshops to area businesses and their employees. Training can take place at UHD or at a trainee's office in the Houston area. Course duration and content can be tailored for each client individually.

We will focus on the following areas:
- Presentations
- Negotiations
- Business writing (email writing, technical writing, reports, etc.)
- Cross-cultural communication
- Intensive training for business events (e.g. conference, job interview, etc.)
Brochure
Recensioni
Questa scuola non ha ancora nessuna recensione
Video
Questa scuola non ha aggiunto nessun video
Ottieni prezzo