(Montreal | Canada )
Montreal International Institute of Language Arts (MIILA)
Marcar escuela como favorita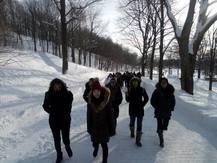 8255 Mountain Sights #150
,
Montreal
(
view map
)
Sobre
Montreal International Institute of Language Arts (MIILA)
Our beautiful institution is located five minutes from the metro station De la Savane. MIILA offers you a cosmopolitan language-learning experience in a cozy and familial environment. Small classes provide you with personal lessons catered to your ability, and the extracurricular activities organized by the school will guide you through the diverse cultural and social activities that Montreal has to offer, no matter the weather! Our diverse variety of students is reflected by our multinational staff, in an open and friendly atmosphere that will become your home away from home. Speaking of home, our carefully selected home stays and residences will guarantee you a comfortable and safe environment. Our institution offers a large variety of services to help make your stay spectacular. You can benefit from Internet access, lunch and lounge area, as well as a convenient location that allows you to be close to most tourist spots in the city, like the Old Port, the Underground City, Mont-Royal, and many more.
Deportes
Fútbol
Esquí
Snowboarding
Otros servicios
Traslado y recogida en el aeropuerto o estación ferroviaria
Orientación al estudiante
Ayuda para la tramitación de visado
Alojamiento
Alojamiento en familias de acogida
En apartamento propio
En hotel/pensión
Trabajo y cursar otros estudios
El estudiante tiene permiso legal para trabajar/ganar dinero durante el curso
Otros estudios académicos disponibles en el campus universitario
Experiencia laboral/Prácticas en empresas locales
Actividades
Moda
Visitas a lugares históricos
Actividades en el campus
Acontecimientos deportivos profesionales
Actividades culturales locales (festivales, etc.)
Cursos
Cursos de Francés general
88% 6 Opiniones
This course is for students aged: 16-70
Tipo de ubicación: Ciudad mediana/grande
Niveles: Avanzado, Básico, Intermedio
Tamaño del grupo: Pequeño (de 6 a 10 alumnos)
Horas semanales: Relajado (10-15 horas semanales), General (15-25 horas semanales), Intensivo (más de 25 horas semanales)
French as a Second Language (FSL)
M.I.I.L.A. offers 11 levels of FSL, at different intensities: part-time, full-time and intensive. Depending on your level, your classes will either be in the morning or in the afternoon. All schedules include two 10-mminute breaks.
Cursos de Inglés general
90% 6 Opiniones
This course is for students aged: 16-70
Tipo de ubicación: Ciudad mediana/grande
Niveles: Avanzado, Básico, Intermedio
Tamaño del grupo: Pequeño (de 6 a 10 alumnos), Individual
Horas semanales: Relajado (10-15 horas semanales), General (15-25 horas semanales), Intensivo (más de 25 horas semanales)
M.I.I.L.A. offers 12 levels of ESL, at different intensities: part-time, full-time and intensive. Depending on your level, your classes will either be in the morning or in the afternoon. All schedules include two 10-minute breaks.

Intensities
Inten­si­ties Hours/week Hours/day Lessons/week – (50 min) Days of the week Ten­ta­tive Schedule
Part-time 15 3 18 Mon­day to Friday Choose 15 hrs of courses
Inten­sive 22.5 4.5 27 Mon­day to Friday 9:00 am – 1:30 pm or 1:30 pm to 6:00 pm
Super-intensive 30 6 36 Mon­day to Friday 9:00 am – 3:30 pm or 12:00 pm – 6:00 pm
Folletos
Opiniones
Lo que dicen los estudiantes
Ordenar por:
Vídeos
Esta escuela no ha publicado ningún vídeo
Obtenga Precio
|
Powered by CoursePricer
Obtenga Precio