(Montreal | Canada )
Montreal International Institute of Language Arts (MIILA)
Marcar Escola como Favorita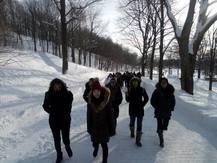 8255 Mountain Sights #150
,
Montreal
(
view map
)
Sobre
Montreal International Institute of Language Arts (MIILA)
Our beautiful institution is located five minutes from the metro station De la Savane. MIILA offers you a cosmopolitan language-learning experience in a cozy and familial environment. Small classes provide you with personal lessons catered to your ability, and the extracurricular activities organized by the school will guide you through the diverse cultural and social activities that Montreal has to offer, no matter the weather! Our diverse variety of students is reflected by our multinational staff, in an open and friendly atmosphere that will become your home away from home. Speaking of home, our carefully selected home stays and residences will guarantee you a comfortable and safe environment. Our institution offers a large variety of services to help make your stay spectacular. You can benefit from Internet access, lunch and lounge area, as well as a convenient location that allows you to be close to most tourist spots in the city, like the Old Port, the Underground City, Mont-Royal, and many more.
Esportes
Futebol
Esqui
Snowboarding
Serviços adicionais
Translado estação/aeroporto
Aconselhamento ao aluno
Orientação sobre vistos
Alojamento
Hospedagem em famílias
Apartamento próprio
Hotel/pensão
Trabalho e Estudos
Estudante com permissão para trabalhar / ganhar dinheiro durante o curso
Outros estudos acadêmicos disponíveis no campus
Experiência de trabalho / estágio em empresas locais
Atividades
Moda
Turismo histórico
Eventos no campus
Eventos esportivos profissionais
Eventos culturais locais (festivais etc.)
Cursos
Geral Francês
88% 6 Avaliações
Este curso é para estudantes de idade: 16-70
Tipo de local: Cidade
Níveis: Avançado, Básico, Intermediário
Tamanho da classe: Médio, 6-10 alunos
Horas Semanais: Descontração 10-15 horas/semana, Geral 15-25 horas/semana, Intensivo masi de 25 horas/semana
French as a Second Language (FSL)
M.I.I.L.A. offers 11 levels of FSL, at different intensities: part-time, full-time and intensive. Depending on your level, your classes will either be in the morning or in the afternoon. All schedules include two 10-mminute breaks.
Geral Inglês
90% 6 Avaliações
Este curso é para estudantes de idade: 16-70
Tipo de local: Cidade
Níveis: Avançado, Básico, Intermediário
Tamanho da classe: Médio, 6-10 alunos, Aula particular
Horas Semanais: Descontração 10-15 horas/semana, Geral 15-25 horas/semana, Intensivo masi de 25 horas/semana
M.I.I.L.A. offers 12 levels of ESL, at different intensities: part-time, full-time and intensive. Depending on your level, your classes will either be in the morning or in the afternoon. All schedules include two 10-minute breaks.

Intensities
Inten­si­ties Hours/week Hours/day Lessons/week – (50 min) Days of the week Ten­ta­tive Schedule
Part-time 15 3 18 Mon­day to Friday Choose 15 hrs of courses
Inten­sive 22.5 4.5 27 Mon­day to Friday 9:00 am – 1:30 pm or 1:30 pm to 6:00 pm
Super-intensive 30 6 36 Mon­day to Friday 9:00 am – 3:30 pm or 12:00 pm – 6:00 pm
Brochuras
Avaliações
O que estão dizendo os alunos
Classificar por:
Vídeos
Esta escola não adicionou nenhum vídeo
Obter preço
|
Powered by CoursePricer
Obter preço