(Montreal | Canada )
Montreal International Institute of Language Arts (MIILA)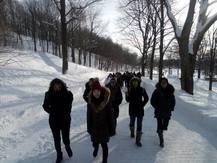 8255 Mountain Sights #150
,
Montreal
(
view map
)
Über
Montreal International Institute of Language Arts (MIILA)
Our beautiful institution is located five minutes from the metro station De la Savane. MIILA offers you a cosmopolitan language-learning experience in a cozy and familial environment. Small classes provide you with personal lessons catered to your ability, and the extracurricular activities organized by the school will guide you through the diverse cultural and social activities that Montreal has to offer, no matter the weather! Our diverse variety of students is reflected by our multinational staff, in an open and friendly atmosphere that will become your home away from home. Speaking of home, our carefully selected home stays and residences will guarantee you a comfortable and safe environment. Our institution offers a large variety of services to help make your stay spectacular. You can benefit from Internet access, lunch and lounge area, as well as a convenient location that allows you to be close to most tourist spots in the city, like the Old Port, the Underground City, Mont-Royal, and many more.
Sport
Fussball
Skifahren
Snowboarden
Zusätzliche Services
Flughafen/Bahnhof-Transfer
Studienberatung
Visa Unterstützung
Unterbringung
Unterbringung bei Gastfamilie
Eigenes Apartment
In Hotel/Gästehaus
Jobs und Studiengänge
Student ist berechtigt, während des Kurses zu arbeiten / Geld zu verdienen
Weitere akademische Studien auf dem Campus möglich
Arbeitserfahrung / Praktika bei lokalen Firmen
Freizeitangebot
Mode
Besichtigung von historischen Sehenswürdigkeiten
Veranstaltungen auf dem Campus
Profisport-Veranstaltungen
Kulturelle Veranstaltungen vor Ort (Festivals, etc.)
Kurse
Allgemeines Französisch
88% 6 Bewertungen
This course is for students aged: 16-70
Ort des Aufenthalts: Stadt
Levels: Fortgeschrittene, Grundstufe, Mittelstufe
Größe der Klassen: Mittel, 6-10 Schüler
Wochenstunden: Entspannt 10-15 Stunden/Woche, Standard (15-25 Stunden/Woche), Intensivkurs 25+ Std/Woche
French as a Second Language (FSL)
M.I.I.L.A. offers 11 levels of FSL, at different intensities: part-time, full-time and intensive. Depending on your level, your classes will either be in the morning or in the afternoon. All schedules include two 10-mminute breaks.
Allgemeines Englisch
90% 6 Bewertungen
This course is for students aged: 16-70
Ort des Aufenthalts: Stadt
Levels: Fortgeschrittene, Grundstufe, Mittelstufe
Größe der Klassen: Mittel, 6-10 Schüler, Einzelunterricht
Wochenstunden: Entspannt 10-15 Stunden/Woche, Standard (15-25 Stunden/Woche), Intensivkurs 25+ Std/Woche
M.I.I.L.A. offers 12 levels of ESL, at different intensities: part-time, full-time and intensive. Depending on your level, your classes will either be in the morning or in the afternoon. All schedules include two 10-minute breaks.

Intensities
Inten­si­ties Hours/week Hours/day Lessons/week – (50 min) Days of the week Ten­ta­tive Schedule
Part-time 15 3 18 Mon­day to Friday Choose 15 hrs of courses
Inten­sive 22.5 4.5 27 Mon­day to Friday 9:00 am – 1:30 pm or 1:30 pm to 6:00 pm
Super-intensive 30 6 36 Mon­day to Friday 9:00 am – 3:30 pm or 12:00 pm – 6:00 pm
Brochüren
Bewertungen
Was unsere Sprachschüler sagen
Sortieren nach:
Videos
Diese Schule hat keine Videos hinzugefügt
Preis abfrage
|
Powered by CoursePricer
Preis abfrage