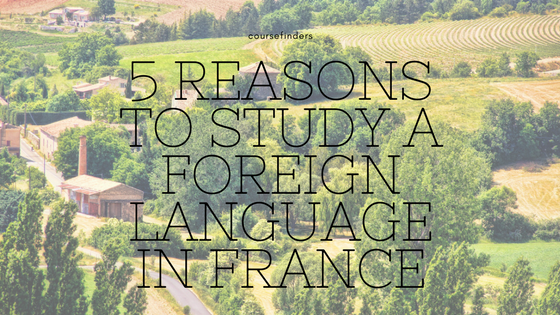 France could be a great country to attend a language school and to learn a foreign language. You will get in touch with the culture, the persons and the special food like frog's leg or snails (only if you want, of course).
We have a lot of language schools in Paris or Nice, but also in other regions of the country. Just check them here.
5 reasons to learn a foreign language in France
1) The landscape is varied.
France is a big country which has a lot of water like the Atlantic Ocean (perfect for sufers) and the Mediterrean Sea (with sandy beaches) and mountains like the Alps and the Pyrenees. But you will find also a lot of cities which are great for a shopping tour.
In France, you have a lot of possibilities to be active and to get in touch with the country: You can go for a bicycle ride, go hiking or go on a roadtrip – alone or with friends.
2) You come into contact with the French language.
Another reason to learn a foreign language in France (maybe French?) is that you come into contact with it. You could try the words and sentences you've learnt on the same day, for example in the supermarket, in a restaurant or in a souvenir shop.
So you could check immediately your language knowledge and maybe you will get also in touch with natives who could help you to learn their language.
3) The French people are very nice.
Most of the persons in another country are nice and happy when they meet someone who speaks their language. Be honest and try to talk to natives. In addition you will find new friends when you go out and meet other persons.
4) The standard of living is the same.
In France you will have nearly the same standard of living as in Great Britain or in the United States of America. So you don't have to be frightened because of a culture shock. In addition you could travel a lot by train, bus or car.
5) You could buy a lot of books and magazines.
The best thing of another country is that you could read newspapers at the same day and not three days later. But you could also buy magazines and books to improve your language skills nearly everywhere. It's logical that you have a bigger selection of newspapers, magazines and books in the French language in France than in another country.
France is a great country which has a lot to offer. You will have a wonderful time in a country where the quality of life is very important. So what are waiting for? Check our language schools in France and study abroad.
Come back to CourseFinders.com for more articles about languages and studying abroad.
Follow us on Facebook and Twitter and don't miss another article on CourseFinders.com!
Find your perfect language school
Search CourseFinders to find the course for you