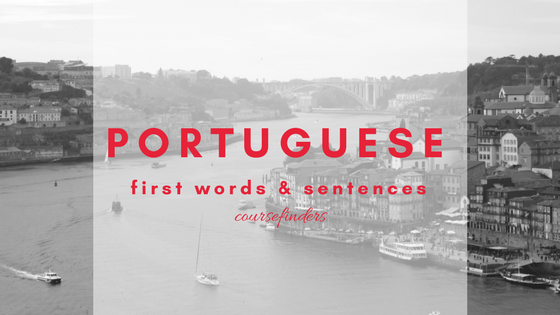 Portuguese is not only spoken in Europe, but also in Brazil, in South America, and has more than 200 million speakers. The first minutes of a conversation are always difficult – and it doesn't matter which language it is. But you could learn a few words and sentences to begin talks without fear.
The easiest way to learn a foreign language is to visit the home country of this language and to attend a language school – maybe in Portugal or in Brazil. In addition language certificates  are useful to get your dream job or just to motivate yourself.
First words and sentences in Portuguese
To say hello and to say goodbye
Bom dia! – Good day!
Bom dia! / Boa tarde! – Good day!
Boa tarde / Boa noite! – Good evening!
Olá! (Portugal) / Oi! (Brazil) – Hello!
Adeus! – Bye!
Até breve! – See you soon!
Até logo! – See you later!
To introduce yourself and others
Como se chama? – What's your name? (formal)
Como te chamas? – What's your name? (informal)
Chamo-me … – My name is …
Posso apresentar o senhor X / a senhora X. – I would like to introduce Mr. X / Mrs. X to you.
Origins
Donde é que é? – Where are you from? (formal)
Donde é que tu és? – Where are you from? (informal)
Sou de … – I come from …
Communication problems
Como? – Sorry?
Não compreendo. – I don't understand.
Pode repetir, por favor? – Could you say it again, please?
Pode falar um pouco mais devagar? – Could you speak more slowly, please?
Fala …? – Do you speak …? (formal)
Falas …? – Do you speak …? (informal)
… alemão? – … German?
… inglês? – … English?
Falo só um pouco de … – I speak a little bit …
Pode escrever isso, por favor? – Could you write it down, please?
Other useful words and sentences
Sim. – Yes.
Não. – No.
Faz favor. – Please.
Obrigado! / Obrigada! – Thank you / Thanks!
Desculpe. – I am sorry.
Would you like to learn more Portuguese? Then check our language schools here!
Come back to CourseFinders.com for more articles about languages and studying abroad.
Follow us on Facebook and Twitter and don't miss another article on CourseFinders.com!
Find your perfect language school
Search CourseFinders to find the course for you