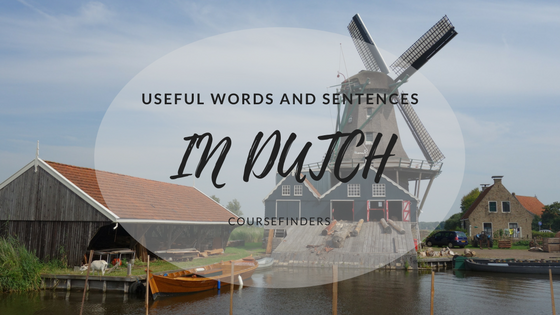 Dutch is spoken in the Netherlands, but also in a part of Belgium. So there are about 25 million people who speak Dutch as first language. It is one of the Germanic languages and has a lot of similarities with German and English. The vocabulary of Dutch is mostly Germanic, but incorporates more Romance loans than German and fewer Romance loans than English. So it can be said that Dutch is a language between German and English.
Useful words and sentences in Dutch
If you want to start today, learn these words and sentences and check our language schools for Dutch!
Hallo!
Hello!
Goedmorgen!
Good morning!
Goedeavond!
Good evening!
Goedenacht!
Good night!
Dag!
Tschüss!
Tot ziens!
Goodbye!
alstublieft
please
dank u
thank you
ja
yes
nee
no
Hoe heet u?
What is your name?
Leuk u te ontmoeten.
Nice to meet you.
Hoe gaat het met u?
How are you?
Goed, dank u!
Fine, thank you!
En u?
And you?
Hoe oud ben je?
How old are you?
Ik ben … jaar oud.
I am … years old.
Spreekt u Engels/ Frans/ Duits/ …?
Do you speak English/ French/ German/ …?
Ik spreek geen Nederlands.
I don't speak Dutch.
Ik begrijp het niet.
I don't understand.
Ik weet het niet.
I don't know.
en beetje
a bit
Wat betekent dat woord?
What does this word mean?
Kunt u me helpen?
Can you help me?
Waar is de luchthaven/ station/ hotel/ …?
Where is the airport/ station/ hotel/ …?
Ik heb gereserveerd.
I have a reservation.
Heeft u nog kamers beschikbaar?
Do you have any rooms?
Wat is dit?
What is that?
ingang / entree
Eingang
uitgang
Ausgang
één, twee, drie, vier, vijf, zes, zeven, acht, negen, tien
one, two, three, four, five, six, seven, eight, nine, ten
maandag, dinsdag, woensdag, dondersdag, vrijdag, zaterdag, zondag
monday, tuesday, wednesday, thursday, friday, saturday, sunday
→ Check here our language schools for Dutch!
Come back to CourseFinders.com for more articles about languages and studying abroad.
Follow us on Facebook and Twitter and don't miss another article on CourseFinders.com!
Find your perfect language school
Search CourseFinders to find the course for you