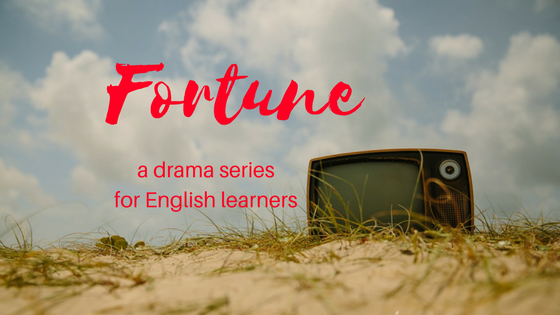 Fortune is a crowd-funded drama series for English learners which has completed filming.
What is the project?
The main reason for the drama series "Fortune" is to aid the teaching of English. Because of that every episode has been filmed twice: at the levels A2 and B2 (based on the Common European Framework of Reference for Langauges).
So with each new episode (5 – 7 minutes) of season one you have the possibility to choose the level of English language.
In addition you can find teaching and learning materials to use in class or at home for every episode.
What is the story?
Daniel Tait has arrived home to find that his wife Jenny has disappeared in a mysterious way. To get her back safely Daniel makes the call to the private investigator Jimmy Fortune.
Who makes the series?
There are two co-founders: Ben Woollen and Scott Granville.
Ben is based in Wellington in New Zealand and worked in the creative industry. Before starting work on Fortune he worked on a major motion picture in Wellington.
Scott worked across the media and education sectors. His focus was on creating and producing original content for multimedia platforms (English language and literature teaching among other things).
Who is who?
The main characters are Jimmy Fortune (played by Nick Wilkinson) and Daniel Tait (played by Sash Nixon).
Nick Wilkinson has worked with some of New Zealand's celebrities. Additional he knows everything about storytelling and how to bring characters to life.
Sash Nixon is a filmmaker and actor. In 2011, he won a "Best Acting" award. He was also co-writer and co-director for the drama "The Anniversary", which won "Best Film" in 2017.
Why should you watch the series?
First of all you can watch it just for fun. But it is also a great possibility to improve your language skills because in every episode could be something new – like a new word or a new expression!
If you want more information about the series, check here and here.
Come back to CourseFinders.com for more articles about languages and studying abroad.
Follow us on Facebook and Twitter and don't miss another article on CourseFinders.com!
Find your perfect language school
Search CourseFinders to find the course for you