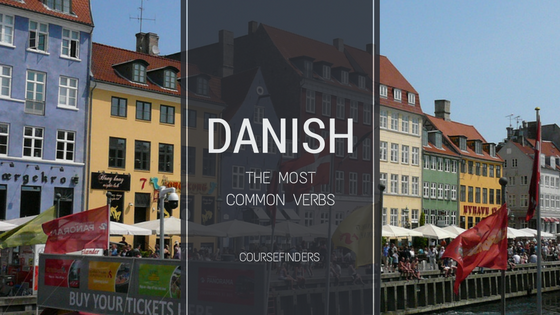 Would you like to learn Danish, but you don't know where to start? A new language means to get in touch with the vocabulary, the grammar explanations and the pronunciation of different words, but also with the cadence.
But if you really want to talk in Danish, you will need verbs for nearly every sentence. You could learn them in a language school for Danish or at home with the aid of our article.
The most common verbs in Danish
1) at være – "to be"
jeg er: "I am"
du er: "you (sg.) are"
hun/han er: "he/she is"
vi er: "we are"
I er: "you (pl.) are"
de er: "they are"
Example: Jeg er fra Frankrig. – "I'm from France."
2) at ville – "to want"
jeg vil
du vil
hun/han vil
vi vil
I vil
de vil
Example: De vil købe en bil. – "They want to buy a car."
3) at hedde – "to be called"
jeg hedder
du hedder
hun/han hedder
vi hedder
I hedder
de hedder
Example: Jeg hedder Maria. – "I'm called Maria."
4) at komme – "to come"
jeg kommer
du kommer
hun/han kommer
vi kommer
I kommer
de kommer
Example: Jeg kommer altid for sent. – "I always come too late."
5) at have – "to have"
jeg har
du har
hun/han har
vi har
I har
de har
Example: Har du tid? – "Do you have time?"
6) at sige – "to say"
jeg siger
du siger
hun/han siger
vi siger
I siger
de siger
Example: Hvad siger hun? – "What is she saying?"
7) at gå – "to go"
jeg går
du går
hun/han går
vi går
I går
de går
Example: Hun går på Københavns Universitet. – "She goes to Copenhagen University."
8) at lave – "to make, to do"
jeg laver
du laver
hun/han laver
vi laver
I laver
de laver
Example: Hvad laver du på torsdag? – "What are you doing on Thrusday?"
9) at snakke – "to talk"
jeg snakker
du snakker
hun/han snakker
vi snakker
I snakker
de snakker
Example: Jeg snakker med Marlo. – "I talk to Marlo."
10) at tale – "to speak"
jeg taler
du taler
hun/han taler
vi taler
I taler
de taler
Example: Jeg taler lidt dansk. – "I speak a little Danish."
11) at se – "to see"
jeg ser
du ser
hun/han ser
vi ser
I ser
de ser
Example: De ser en film sammen. – "They are seeing a film together."
12) at skulle – "should"
jeg skal
du skal
hun/han skal
vi skal
I skal
de skal
Example: Skal vi spise salat i aften? – "Should we have salad tonight?"
Would you like to learn more Danish? Check our language schools for Danish here or check this article on our blog: Learn Danish.
Come back to CourseFinders.com for more articles about languages and studying abroad.
Follow us on Facebook and Twitter and don't miss another article on CourseFinders.com!
Find your perfect language school
Search CourseFinders to find the course for you