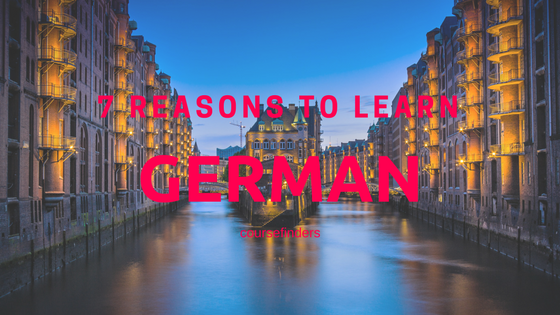 Would you like to learn a new language and don't know which one could be good for you? First of all: A new language is always a good idea and could help you to get your dream job, to travel in another way or to get in touch with different persons from all over the world. You could learn a new language at home, but also in a language school wherever you want.
But what is a good language to learn? Every person has a different opinion, but for some German is a perfect language with a lot of special qualities.
7 reasons to learn German
#1 Germany is location of different international companies, like Siemens, Volkswagen or Bosch.
#2 German is spoken in different European countries: Germany, Switzerland, Austria, but also in the north of Italy, in the east of France, in Luxembourg and in Belgium.
#3 German is one of the most spoken languages all over the world and is part of the 12 world languages.
#4 German and English are both Germanic languages, so they have a common ground. Here are some examples:
brown = braun
finger = Finger
father = Vater
garden = Garten
paper = Papier
mouse = Maus
#5 German is the mother tongue of Johann Wolfgang von Goethe, Friedrich Schiller, Karl Marx, Friedrich Nietzsche, Thomas Mann and Franz Kafka. But also musicians like Wolfgang Amadeus Mozart, Johann Sebastian Bach and Richard Wagner spoke German. There are also scientists whose language was German: Sigmund Freund, Albert Einstein and Georg Friedrich Wilhelm Hegel.
#6 Germany is one of the biggest exporting countries all over the world. So that means that German is an important language in the economic sector and used by a lot of businessmen.
#7 About 18 % of the books all over the world are published in German and only a minority is translated in English or in other languages.
German is a great language to learn. Try it at a languge school and meet students from all over the world. Check our language schools for German or read this article about language schools in Munich!
Come back to CourseFinders.com for more articles about languages and studying abroad.
Follow us on Facebook and Twitter and don't miss another article on CourseFinders.com!
Find your perfect language school
Search CourseFinders to find the course for you