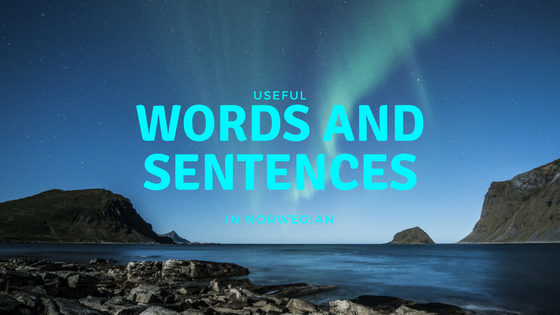 Norwegian is a North Germanic language which is spoken in Norway. There are two official forms of written Norwegian: Bokmål and Nynorsk. In addition there are two other forms of Norwegian which don't have an official status in the country. They are called Riksmål and Høgnorsk. Also Swedish and Danish are very similar to the Norwegian language.
To be well-prepared for your next language trip to Norway, you should learn these words and sentences.
Useful words and sentences in Norwegian
Hei!
Hello!
God morgen! / Morn!
Good morning!
God aften! / God kveld!
Good evening!
God natt!
Good night!
Adjø!
Tschüss!
Farvel!
Goodbye!
er du snill
please
takk
thank you
ja
Yes
nei
No
Hva heter du?
What is your name?
Så hyggelig å se deg!
Nice to meet you.
Hvordan har du det?
How are you?
Bra, takk!
Fine, thank you!
Og du?
And you?
Hvor gammel er du?
How old are you?
Jeg er … gammel.
I am … years old.
Snakker du engelsk/ fransk/ tysk/ …?
Do you speak English/ French/ German/ …?
Jeg snakker og litt norsk.
I speak Norwegian a little bit.
Jeg forstår ikke.
I don't understand.
Jeg vet ikke.
I don't know.
en smule
a bit
Hva betyr det?
What does it mean?
Kan du hjelpe meg?
Can you help me?
Hvor er flyplass/ stasjon/ hotell/ …?
Where is the airport/ station/ hotel/ …?
Har du et rom?
Do you have a room?
Hva er det?
What is that?
inngang
Eingang
utgang
Ausgang
en, to, tre, fire, fem, seks, sju, åtte, ni, ti
one, two, three, four, five, six, seven, eight, nine, ten
mandag, tirsdag, onsdag, torsdag, fredag, lørdag, søndag
monday, tuesday, wednesday, thursday, friday, saturday, sunday
Would you like to learn more about and in Norwegian? Then check our language schools and study the language abroad.
Come back to CourseFinders.com for more articles about languages and studying abroad.
Follow us on Facebook and Twitter and don't miss another article on CourseFinders.com!
Find your perfect language school
Search CourseFinders to find the course for you