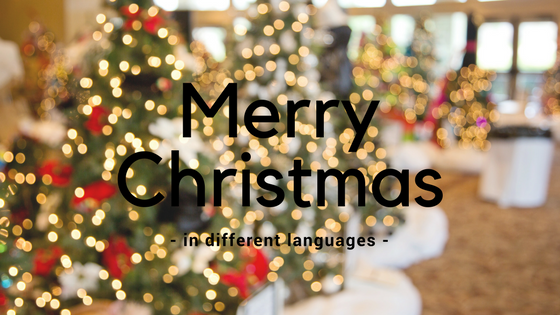 Christmas is an event which is celebrated all over the world. Every country has it own traditions and characteristics.
If you want to know more about different countries, check these articles:
In addition the typical sentence at Christmas is "Merry Christmas" which is used all over the world – of course in different languages. But you say it to nearly everyone you see and it doesn't matter if that is a person of your family or a stranger. Christmas is the time of the year where you spend time with others.
But how can you say "Merry Christmas" in different languages? And especially in your learning language?
Of course, there are a lot of different languages all over the world. If you want to know more about languages in general, you could read our article "20 facts about language" or attend a language school. But now:
Merry Christmas in different languages
Albanian: Gëzuar Krishtlindjen!
Spanish: Feliz Navidad!
Cornish: Nadelik Lowen!
Walloon: Djoyeus Noyé!
French: Joyeux Noël!
Dutch: Vrolijk Kerstfeest!
Bulgarian: Vesela Koleda!
Czech: Veselé Vánoce!
Hungarian: Boldog karácsonyt!
Georgian: gilocav shoba-akhal c'els!
Portuguese: Feliz Natal!
Estonian: Rõõmsaid Jõulupühi!
Swedish: God Jul!
Croation: Sretan Božić!
German: Frohe Weihnachten!
Norewegian: Gledelig Jul!
Japanese: Meri Kurisumasu!
Hawaiian: Mele Kalikimaka!
Macedonian: Streken Boszhik!
Turkish: Mutlu Noeller!
Esperanto: Feliĉan Kristnaskon!
Greek: Kala Christouyenna!
Romanian: Crăciun Fericit!
Polish: Wesołych Świąt!
Danish: Glædelig Jul!
Italian: Buon Natale!
Icelandic: Gleðileg jól!
Finnish: Hyvää joulua!
Greenlandic: Juullimi Pilluarit!
Irish: Nollaig Shona Dhuit!
Farsi: Christmas MobArak!
Korean: Meri krismas!
Lithuanian: Linksmų Kalėdų!
Vietnamese: Chuć Mưǹg Giańg Sinh!
That is not the only sentence you should know for Christmas, but it is a good start to talk to others in your learning language. In addition you could write a list with the most important words and sentences for Christmas (or read this article) to be well prepared for the next days.
Merry Christmas and enjoy the next days!
Come back to CourseFinders.com for more articles about languages and studying abroad.
Follow us on Facebook and Twitter and don't miss another article on CourseFinders.com!
Find your perfect language school
Search CourseFinders to find the course for you