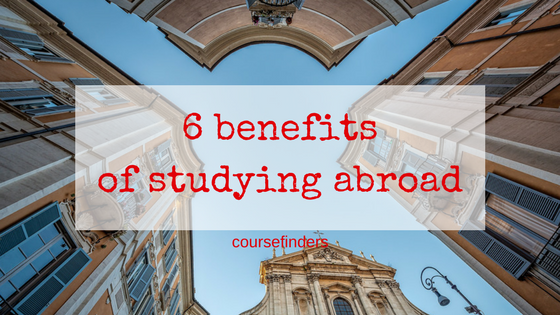 One of the best experiences in life is "studying abroad". You could study in another country, in a foreign language and – at the same time – you could explore the country, the natives and also their culture. But studying abroad has more benefits.
6 benefits of studying abroad
#1 Jump in one's career!
Of course, studying abroad can help you to get the job you really want. You will gain experience and you will meet a lot of people who could become friends, but also contacts which could be helpful for your business career. So start with your language trip and find your language school wherever you want.
#2 Travel and see the world!
Studying abroad doesn't mean that you only study. You'll also have a lot of free time which you can use to see the world (or the country). You could visit castles, small villages or bigger cities which aren't so far away. Use the time you have to get in touch also with the country (and not only with the school or the university).
#3 Get stronger and more independent!
The life in another country is not the same as at home. So you can be sure that there will be difficulties. But because of this you will get stronger, more organised and more independent. Say yes to difficulties and manage them (sometimes with tooth and nail).
#4 Find new hobbies!
If you study abroad, you will get in touch with new activities like for example a new sport, some special painting things or hiking. These things could become your new hobbies and if you would stayed it home, you may never have discovered them. So use your time in a foreign country to try everything you like.
#5 Make friends from all over the world!
You won't be alone. There are always other students in the university or in your language school. So don't be shy, say hello and make friends for life. In addition – after the language trip – you could visit them in their hometown to learn more about their culture, their life and maybe also to learn their native language.
#6 Improve your language skills!
Naturally the first thing you should do while studying abroad is to improve your language skills. Because that is the reason why you spend weeks or months in another countrie. The other five aspects are only the bonus. So take your language trip seriously and get better every day. There are also a lot of teachers who can help you to make progress.
Come back to CourseFinders.com for more articles about languages and studying abroad.
Follow us on Facebook and Twitter and don't miss another article on CourseFinders.com!
Find your perfect language school
Search CourseFinders to find the course for you