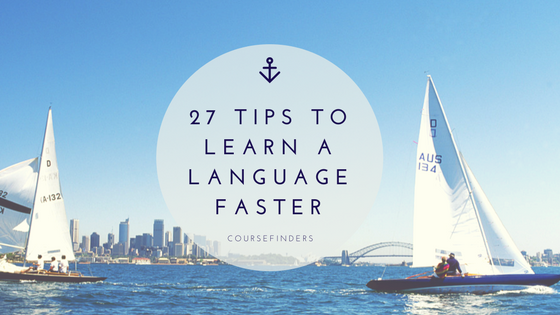 There are a lot of possibilites to learn a language faster – at home or while travelling to other countries. So it is your choice how to learn a foreign language.
Here are the best tips to learn a foreign language faster:
#1 Learn every day a few minutes. Maybe before breakfast?

#2 Make mistakes. They are good to learn new things and get better in a fast way.

#3 Talk to natives whenever it is possible. And as soon as you can.

#4 Write down your goals to know always why you focus on language learning.

#5 Have fun and save your passion for learning foreign languages.

#6 Learn the auxiliary verbs to create sentences in an easier way.

#7 Explain it when you don't know the real word.

#8 Use Youtube videos to experience different dialects and accents.

#9 Language partners could help you to talk in your learning language.

#10 Use Facebook, WhatsApp and other possibilites to stay in contact with your language partners.

#11 Meet other learners of different languages on polyglot meetups.

#12 You could also invite your international friends to have a great evening with good food and drinks.

#13 Talk to yourself: about your day, your work or your hobbies. It doesn't matter! The important thing is to speak in another language.

#14 Use only material you like to learn a foreign language. If you don't like the book because the layout is not good, you will never use it.

#15 Create a plan to improve your language skills regularly.

#16 A learning partner or a learning group could also help you to get the motivation you need.

#17 Maybe you'll find the perfect learning partner on your next language journey.

#18 Listen to music and podcasts to get a feeling for the sound of the language.

#19 Write the exam to get a language certificate. There are certificates for Spanish, French, English, but also for a lot of other languages.

#20 Another possibility is to buy the next guidebook in your learning language.

#22 Start with the most important words. These words are the words you will use very often.

#23 Use Memrise, Babbel or other online services to learn a foreign language.

#24 Write one text per week to improve your writing skills.

#25 Travel.

#26 Read books and magazines. Also reading blogs is a possibility.

#27 After a while learning a foreign language should be your daily routine.
Come back to CourseFinders.com for more articles about languages and studying abroad.
Follow us on Facebook and Twitter and don't miss another article on CourseFinders.com!
Find your perfect language school
Search CourseFinders to find the course for you