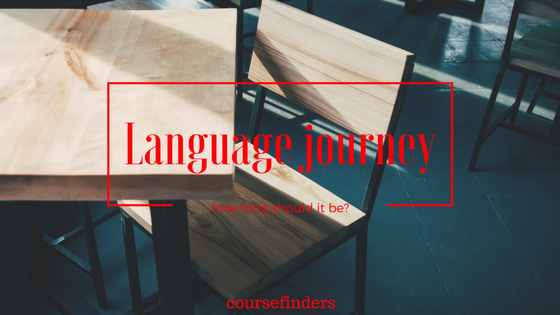 You have found the perfect language school, but now there is a second problem: How long should you visit a school in another country to improve your language skills? This is more difficult than finding the right language school because you know where your learning language is spoken and which countries you like. So for the first question (Where?) the answer is found very fast. For example if you learn French, it makes sense to visit a language school in France.
The length of a language journey
This part of your organistation for you next trip depends on different aspects:
#1 The time you have
In most cases the time is a selective criteria. If you have to work the whole year and if you have only 5 weeks for holidays, you will be very organised. You have to think about the dates when you would like to spend your holiday. In this case it is possible to do a language journey for at most five weeks. Besides work there could be also your family who needs you.
So first of all think about the time period which you can spend in another country to improve your language skills.
#2 The money you can spend
Another aspect is your financial budget. How much could you pay or how much would you like to pay for a language course in another country? Sometimes languages journeys are very expensive, so you have to think about this aspect before booking your trip.
But the best thing is: If you don't have a lot of money, there are always different possibilities. Every language school has its own prices and also the prices in different countries could diversify. For that reason check the language schools and also the living costs in the country where you would like to go.
#3 The offer of the language schools
It depends also on the offer of each language school. If you want to prepare yourself for example for a language exam, you should choose a language school with special preparatory courses. In additive there are sometimes courses with an fixed duration which could be a week or a few months. So before deciding the length, check also the offers of the language schools.
#4 Your feelings
Also your feelings are very important because some learners are homesick after a few days. If you have problems with homesickness, start with a small language trip to accustom yourself to be away from home. But one thing is sure and maybe that aspect could help you a lot: On a language trip it will be never boring because you learn every day, meet new people and you can explore a new country.
You see, the question "How long should a language journey be?" depends on different aspects. To find the answer you should check our offer of different language schools. We have more than 2600 language schools in more than 80 countries. So we are sure: There's also the perfect language school for you. Start learning and book your first trip to another country to improve your language skills.
Come back to CourseFinders.com for more articles about languages and studying abroad.
Follow us on Facebook and Twitter and don't miss another article on CourseFinders.com!
Find your perfect language school
Search CourseFinders to find the course for you