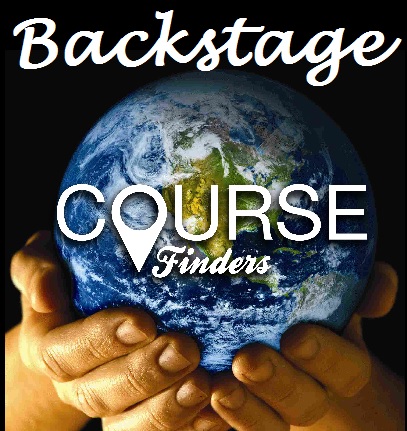 Behind the Scenes of CourseFinders: Interview with Silvia Spatafora
Would you like to know who writes all the articles for you? Last week I had the pleasure to interview Silvia Spatafora who is responsible for the Italian and the Spanish blog on CourseFinders and who also runs her own blog on https://blogdisilviaspatafora.wordpress.com/ If you are interested in the Italian language, you must definitely check out her blog!
Tell us a little bit about yourself and your background. What languages do you speak?
Hello everyone!
My name is Silvia, I'm 30 years old and I'm an Italian living abroad, more precisely in Madrid. My home town is the beautiful Palermo, in Sicily.
In 2007 I took part in the "Leonardo da Vinci" project so I had the opportunity to spend three months in Seville.
There, I immediately felt like home … a curious, beautiful feeling that for me it's still hard to explain!
I felt that Spain was the perfect place for me and after I graduated I came back … to stay!
I've been living and work in Madrid for almost 6 years now.
I'm an Italian teacher, I mostly give classes in companies, but I also work as a translator and proof-reader and I write articles for blogs dedicated to languages, as CourseFinders, for example.
Languages are one of my passions. I speak Italian, Spanish, English and a little bit of German.
A few years ago I have also created a personal blog, whose subtitle is "Italian language and curiosity", in which I give some advices to Italian learners trying to answer to the main doubts and frequently asked questions that they could have and in which I talk about my beloved land.
When you learn a new language, do you always follow the same strategy?
Not really. Except for Spanish, that I've learned by living here, I get used to study languages at school or university but then I tried to improve them on my own.
How has your strategy to learn new languages changed over the years?
I think that my way of learning languages has changed a lot.
In the past, I was not used to speak directly with a native speaker (the Italian education system not always contemplates it!) but now I think it's a very important thing to do.
I understood that it is not important to learn only the grammatical rules as I did, but know how to apply it in real life. The secret is to focus mainly on vocabulary. Learners should have the bravery to speak out even they don't feel self-confident and they don't have to be afraid to make mistakes. Only in this way we can learn a new language.
Do you have a favourite language?
It may seem strange given my life path, but I really like the Germanic languages.
English and German are the languages that fascinate me most. Perhaps because I love English and German literature.
I'd also like to learn Japanese…
Are there any language blogs or podcasts you follow closely?
I follow several. I really like Spaniway, a blog dedicated to Spanish language, and The Lark and the Plunge, where you can find a lot of information and reviews, both in English and in Italian, of books and literature in general.
Every now and then, I surf the Internet looking for useful websites to perfect my English and my favourite so far is engVid. I like it because it is very complete. Lessons are made by native teachers and they deal with different themes: from grammar and vocabulary to the most common expressions of everyday life. They also have a YouTube channel.
Which resources do you normally use most?
Lately, I have a little abandoned grammar books and, instead of study on them, I pursue to read many blogs, books and comics in original language.
I always watch movies and TV series in original language, sometimes with the help of subtitles. I watch videos on YouTube and I use a lot internet.
What keeps you motivated to keep learning?
I believe that a successful strategy to learn without getting bored is to associate our interests to language learning.
Among my passions there are cinema, music, books and cooking, for example. So I look for video-recipes in other languages when I have to prepare something, I read the lyrics of the songs that I like looking for words that I do not know or I watch movies and I read books in other languages.
What would you recommend a new language learner? How to get started? And what point would you recommend to read up on grammar?
The best advice I can give to those who want to learn a language is to maintain high motivation, whatever it is.
Then to try, as much as possible, to get in touch with native speakers, whether through language courses, internet or linguistic exchanges. To approach with a native speaker helps you to improve your language skills but also it allows you to recognize your limits.
Finally, I suggest you to focus on each one of the basic language skills (listening, reading, speaking and writing).
Grammar is very important at the beginning to understand the mechanisms of the language you are studying, but it is not the only thing to focus on.
When I studied German at university I noticed that my teachers paid attention only on grammar and exercises.
Do you know what was the result?
Now I know very well the grammatical rules but I can't speak fluently …
How important do you think is talent when learning a language?
I reckon that talent in learning a new language exists but it's not extremely important.
It is true that there are people who are capable to learn languages faster than others or who have the ability to reproduce very well the accents of a language, but it is also true that if you are motivated and you find the right method of study you can reach the same results.
How much time do you spend learning languages per day or per week?
Living and working in Spain every day I'm exposed to linguistic challenges and I learn something new. Also thanks to my job, I always work with languages.
So maybe at least 4 hours a week…it depends on the day!
You know you're a language nerd when…
…since when you were a child you feel the sensation that you can't help to read aloud the labels of products in all the languages they were written (even those languages that you do not know!)
I hope our readers now have an insight who is behind the scenes of CourseFinders.
Thanks, Silvia, for the great and inspiring interview! I'm sure we will be working together in the future!
 Here you can find Silvia's Italian CourseFinders blog, her Spanish CourseFinders blog and her personal blog about Italy and the Italian language.
Did you like what you read? Then have a look at our Facebook page and our Twitter account!
Christine
Find your perfect language school
Search CourseFinders to find the course for you