(Cadiz | Spain )
GADIR, Escuela Internacional de Español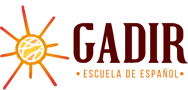 C/ Pérgolas 5, P.O.Box 31
,
Cadiz
(
view map
)
About
GADIR, Escuela Internacional de Español
Cádiz, the oldest city in Western Europe, is indeed privileged due to its mild climate, its wonderful beaches and its inhabitants, which are always warm and friendly and anxious to help the visitors. For this reason, it is very easy to feel at home in the city and enjoy a truly memorable stay. Spanish Students will discover in Cádiz the opportunity of becoming a part of the every day Andalusian life, for Cádiz is not on the most usual and commonplace tourist routes, a circumstance which makes it necessary for one to speak Spanish from the very first day.

Our school, GADIR, is located just five minutes from the centre of the city and from the beach. We offer a great variety of courses: Intensive or Super-Intensive of Spanish, Flamenco Dancing, Culture and Society, Spanish Literature, Commercial Spanish, Perfecting of the Language, and finally, the General Spanish Language Course, with a minimum duration of 8 weeks, which will make it possible for the student to feel fully integrated into Spanish life and become one more resident of the city.

In addition, our students can participate in many cultural and recreational activities in Cádiz and its surroundings: excursions, flamenco and salsa dance courses, the practicing of different sports and other Nature-related and outdoor activities. Students at Gadir can choose between a variety of accommodations: a flat shared with other students from the school, staying with a Spanish family or in a hotel.
Courses
Brochures
Reviews
This school hasn't been reviewed
Videos
This school hasn't added any videos
Get Price