(Comillas | Spain )
Centro Universitario CIESE, Fundación Comillas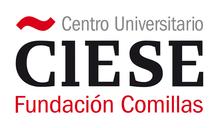 Avda. de la Universidad Pontificia s/n
,
Comillas
(
view map
)
About
Centro Universitario CIESE, Fundación Comillas

FUNDACIÓN COMILLAS is an international benchmark institution in teaching, research and diffusion of the Spanish language and Hispanic cultures.
Located in Cantabria, in the north os Spain, its mission is to foster growth in the knowledge and extension of the Spanish Language and Hispanic cultures. This aim is ahieved by promoting social, cultural and economic cooperation among the Spanish-speaking countries and by faciliting an exchange between them and the rest of the world.
The academic activities of Fundación Comillas are developed in University Center CIESE-Comillas (The International Center for Higher Spanish Studies), whose hallmarks are:
* Excellence in teaching, research and development of educational programs.
*Emphasis on innovation and technology as basic and valuable tools in the teaching and
learning process (R&D).
*Collaboration with national and international institutions and companies highly regarded
in both the academic and professional worlds.
Therefore, CIESE-Comillas provides a comprehensive academic program that offers undergraduate and graduate degrees together with tailor-made courses and different courses of specialization.  
Sports
Golf
Riding
Skiing
Snowboarding
Squash
Additional Services
Water sports
Airport/Station transfer
Facilities for students with disabilities
Student counselling
Visa support
Accommodation
Host family accommodation
Own apartment
In hotel/guesthouse
Shared Apartment
Work and Further Studies
Student legally permitted to work / earn money during course
Activities
Dancing
Film
Literature
Music
Theatre
Art / Painting
Art history
Cooking
Cultural tourism (theater, museum, etc.)
Geography
Hiking
Historical sightseeing
History
Local cultural events (festivals, etc.)
Courses
Brochures
Reviews
This school hasn't been reviewed
Videos
This school hasn't added any videos
Get Price