(Berlin | Germany )
Freie Universität Berlin International Summer and Winter University (FUBiS)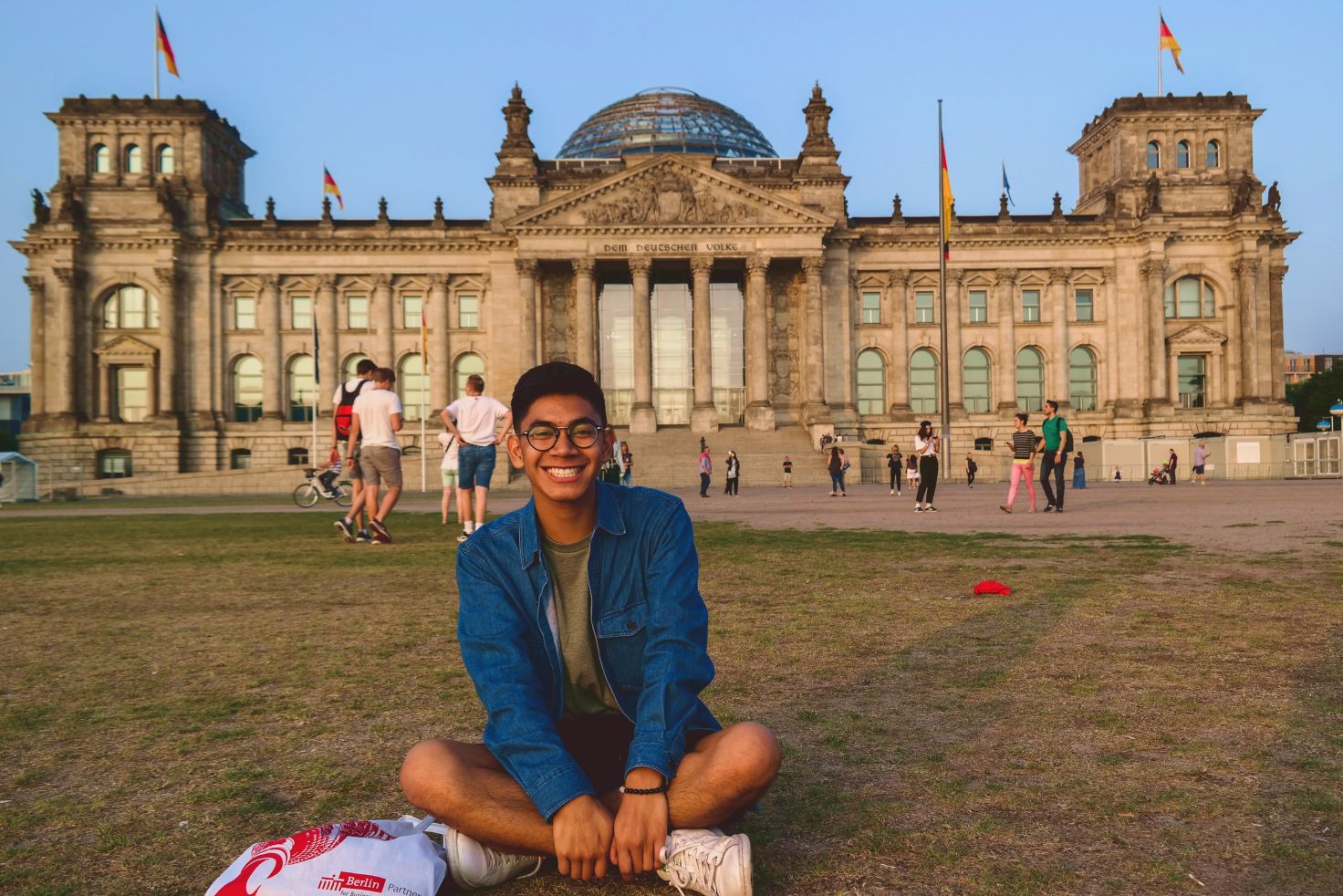 About
Freie Universität Berlin International Summer and Winter University (FUBiS)
About FUBiS
The Freie Universität Berlin International Summer and Winter University (FUBiS) is an intensive, academic program through which students can earn credits that may be counted towards their degrees at their home institutions. FUBiS sessions run for three to six weeks and take place both in summer and winter.

Courses
Students can choose between subject courses (mostly taught in English) and German language and culture courses. The 50+ subject courses are offered within the fields of Architecture, Art History, Politics, Law, History, Media Studies, Economics, Sustainability, Literature, Philosophy, Film, and Music. German language and culture courses are available for up to five different levels of proficiency.

Field Trips
Field trips are an integral part of all our courses. In addition, FUBiS offers excursions such as to the Berlin Reichstag and a River Boat Tour through Downtown Berlin, or day and weekend trips to Potsdam, Dresden, and Leipzig.

Check out our FUBiS Film: https://youtu.be/3eRmybC6r9E

!! FUBiS Summer Program 2023 !!

Term II 2023 (June 3 - July 15), registration until May 6
http://www.fubis.org/2_prog/term_2/index.html
Courses:
- History of European Art: Local Traditions and Transnational Networks
- Economics of European Integration
- Psychoanalysis: The Unconscious as Seen Through the Visual Arts and Literature
- Seduction and Terror: Hitler's Germany
- Europe, Migration, Refugees
- "The Spectre of Revolution": Resistance and Protest in Post-War Europe 1953-1989
- German Language and Culture | Semi-Intensive and Intensive German Language Courses (A1-C1)
- Flyer: http://www.fubis.org/2_prog/term_2/FUBiS-Term-II-2023-Flyer.pdf

Term III 2023 (July 22 - August 19), registration until June 24
http://www.fubis.org/2_prog/term_3/index.html
Courses:
- Architecture in Berlin: A Walk through History
- Twentieth Century Berlin: People, Places, Words
- Global Challenges – Sustainable Futures
- Seduction and Terror: Hitler's Germany
- Race and Racism in Germany and Europe: History, Concepts and Current Disorders
- Law, Society and Politics in Comparative Perspective
- Entrepreneurial Leadership in Berlin and Europe
- Europe, Migration, Refugees
- Berlin: Music and Sound in the Digital Age
- History of European Art: Travelling Artists and Artworks
- The Cold War
- Business & Society in Europe
- The European Union in the 21st Century: Internal and External Challenges
- International Finance
- Schlüsselwerke der deutschen Literatur von der Klassik bis zur Gegenwart
- German Philosophy: From Kant to Habermas
- Sustainable Business: Strategy & Innovation
- Art in Germany from the Middle Ages to the 20th Century
- The Making of Europe: From the 20th to the 21st Century
- German Language and Culture | Semi-Intensive German Language Courses (A1-C1)
- Flyer: http://www.fubis.org/2_prog/term_3/FUBiS-Term-III-2023-Flyer.pdf

Program Highlights
• Gain ECTS credits and broader academic learning within an international environment!
• Expand your insight into specific German topics such as culture, business, politics, and literature.
• Complement your study with visits to memorials, museums, and cultural institutions or sessions with expert guest speakers.
• Enjoy free digital lectures on the FUBiS YouTube channel.
• Students can choose between different subject courses taught in English and German language & Culture courses from A1 to level C1.
• Study visits within Berlin and are an integral part of all our courses.

*****

Read here what our students had to say about FUBiS Term II 2022:
• "It's been one of the best experiences of my life, a 100%."
• "Really enjoyed the class. The professor was very passionate and knowledgeable and the excursions really contributed to the quality of the course."
• "My teacher was one of the most memorable and compelling teachers I've had, covering immensely interesting material."

Read here what our students had to say about FUBiS Term III 2022:
• "Hearty appreciation to our course lecturer! She did a splendid job in organizing and preparing for our classes. She made us feel included and heard in every class. What a terrific teacher!"
• "I really enjoyed the course and learned a lot, it also inspired me for my future studies / carreer!"
• "Best class I've ever taken. Most passionate and engaging professor I've ever had. I never want to leave."
• "I am convinced that I have grown incredibly as a researcher, in these past weeks."
• "FUBiS is a great program and my class was great, I learned a lot of German and it was done in an enjoyable way!"


Further Information
For further information on the FUBiS program, tuition, registration, housing, and scholarships please visit www.fubis.org or contact [email protected]

Find, like and follow FUBiS on:
• Facebook: www.facebook.com/fubis.berlin
• Instagram: www.instagram.com/fubisberlin
• YouTube: www.youtube.com/channel/UC869MCiGtKlcS10r1HFXgXA
• Twitter: www.twitter.com/fubis_berlin

*****

Further customized offers of Freie Universität Berlin for international short-term students can be found here: https://www.global.campus.fu-berlin.de/
• Watch this video to learn more about studying at Freie Universität Berlin: https://www.youtube.com/watch?v=06zHXOz8e_o
• This video gives you insights into life in Berlin: https://www.youtube.com/watch?v=zBei3hB9dmw
• Have a look at different housing options in Berlin in this video: https://www.youtube.com/watch?v=DyAG3RAKuFs

Additional Services
Facilities for students with disabilities
Student counselling
Visa support
Accommodation
Host family accommodation
Own apartment
In hotel/guesthouse
Student Residence
Shared Apartment
Work and Further Studies
Further academic studies available on campus
Activities
Film
Cultural tourism (theater, museum, etc.)
Historical sightseeing
University student social events
Courses
German Summer Courses
100% 4 Reviews
This course is for students aged: 18-99
Location Type: University campus
Levels: Advanced, Basic, Intermediate, Upper Intermediate
Class Sizes: Large, 11-20 students
Weekly Hours: General 15-25 hrs/wk, Intensive 25+ hrs/wk
FUBiS offers intensive and semi-intensive German language courses on up to five different levels of proficiency - ranging from absolute beginner courses for students with no previous knowledge of German to courses for advanced language learners who have successfully completed the intermediate level of German.

Semi-intensive German language courses take place 3 days a week whereas intensive German language courses take place every weekday. On four class days during the term you will go on a short course-related study trip and thus making use of the vast historic, cultural, and political institutions and resources Berlin has to offer.

It is possible to combine a semi-intensive German language course with a subject course. For a detailed description of the different course levels and the various course combination possibilities, please visit the FUBiS website at www.fubis.org.
Brochures
Reviews
What students are saying
Sort By:
Get Price