(Buenos Aires | Argentina )
Expanish Buenos Aires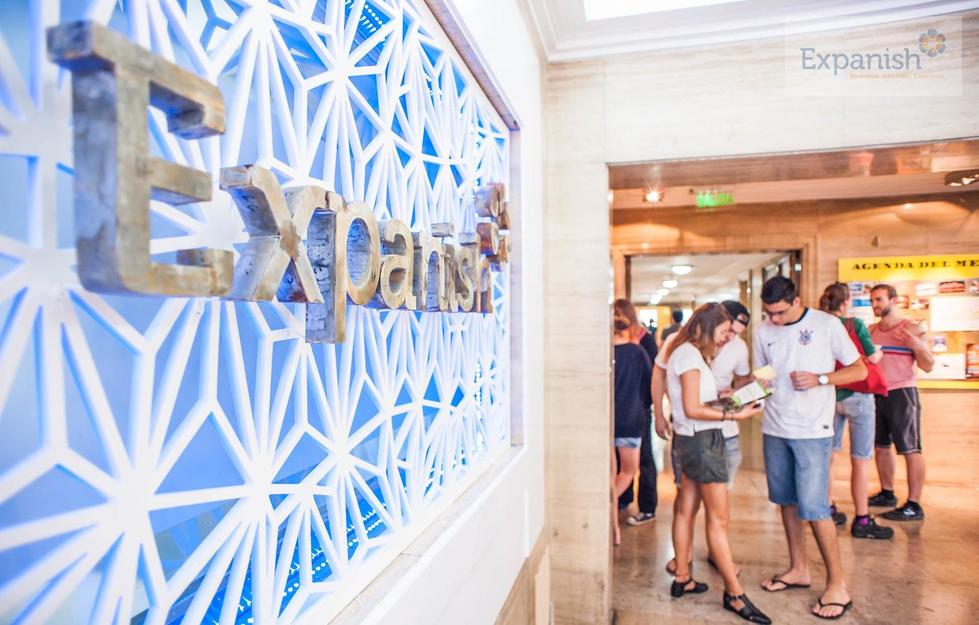 About
Expanish Buenos Aires
Expanish is a Spanish language school located in the heart of Buenos Aires. We're offering one of the most innovative Spanish immersion programs in Latin America. Our exceptional approach to education combines Spanish language with a variety of cultural experiences which result in a unique educational program that fits to each student's needs. Expanish also provides extracurricular components, for example workshops like polo and tango classes, daily cultural activities and weekend excursions. Moreover, we offer local accomodation such as shared apartments and homestays. Expanish is taking the experience of learning Spanish and studying abroad to a whole new dimension.
Additional Services
Airport/Station transfer
Facilities for students with disabilities
Student counselling
Accommodation
Host family accommodation
Host family accommodation without students of same native language
Own apartment
In hotel/guesthouse
Shared Apartment
Student Residence
Work and Further Studies
Work experience / internship with local companies
Activities
Dancing
Film
Cooking
Cultural tourism (theater, museum, etc.)
Historical sightseeing
History
Volunteering
Local cultural events (festivals, etc.)
Courses
General Spanish
98% 7 Reviews
This course is for students aged: 16-70
Location Type: Town/City
Levels: Advanced, Basic, Intermediate
Class Sizes: Medium, 6-10 students
Weekly Hours: General 15-25 hrs/wk, Intensive 25+ hrs/wk
What to expect from all our general courses:
Maximum Exposure to Real Spanish, Small Teacher-Student Ratio, Development of the Four Key Language Skills (speaking,writing,reading and listening), Conversational development, Real-life Materials, Relaxed and Enjoyable Classroom Activities and a Solid Academic Framework.


20 hour intensive course:
Students who take our most popular Intensive Spanish course in Buenos Aires will develop their language skills in an interactive small group environment with an average class size of six students and a maximum of nine students. Small classes allow for personalized attention from the professor in a relaxed and comfortable environment. Students will be completely immersed in the Spanish language while participating in 20 hours of lessons per week. With sessions held either in the morning or the afternoon, our classes are engaging and interactive and are designed to help students develop the four key language skills: reading, writing, listening and speaking.
Program: 20 hours per week
Start dates: Every Monday
Spanish level: From Beginner to Advanced
Duration: Minimum One Week
Maximum group size: 10
Average group size: 6
Schedule: 9am to 12:50pm or 2pm to 5:50pm


30 hour Intensive course:
The Intensive Spanish 30 Course in Buenos Aires, Argentina, is the most intensive Spanish immersion course available at Expanish. In addition to regular group classes in the morning, this Spanish immersion course offers an additional two hours of extra group classes in the afternoon that focus on providing students with practical experience and a focus on writing and speaking in everyday situations.
The Intensive Spanish 30 class is a great option for students who want to:
Learn beyond the specific content of their level's curriculum and focus on real communication and situational context.
Get extra practice in the most important communication skills (reading comprehension, listening comprehension, written expression and speaking skills)
Meet other students of different nationalities while practicing the Spanish language through games and activities
Experience some of the more diverse socio-cultural aspects of Argentina.
Spanish Exam Preparation
0% 0 Reviews
This course is for students aged: 16-70
Location Type: Town/City
Levels: Advanced, Basic, Intermediate
Class Sizes: One-to-One
Weekly Hours: Relaxed 10-15 hrs/wk
The preparation course for the DELE exam consists of individual classes specifically designed to ensure the student develops the necessary competencies to pass their selected level of the exam (beginner, intermediate, or advanced). Beginner students wanting to take the DELE course will need approximately 8 weeks of lessons before starting at DELE A1 level.

Start dates are every monday and the classes introduce a variety of activities to promote development of the four basic skills (writing, reading, conversation, and listening), all of which are necessary to successfully pass the DELE exam.

Students receive learning materials to specifically prepare them for the exam and will be coached in each area of the evaluation. At the end of the course, the student will be given a practice exam which will help them to integrate their acquired knowledge and skills and to practice as if they were in the "real" testing situation.

2015 DALE exam dates:
May 23rd
Levels: A1, A2, B1, B2, C1 y C2
Registration from February 16th to April 8th

July 17th
Levels: A2, B1, B2 y C1
Registration from February 16th to June 10th

October 16th
Levels: A2, B1 y B2
Registration from February 16th to September 9th

November 21st
Levels: A1, A2, B1, B2, C1 y C2
Registration from February 16th to October 14th
Business Spanish
0% 0 Reviews
This course is for students aged: 16-70
Location Type: Town/City
Levels: Advanced, Basic, Intermediate
Class Sizes: One-to-One, Medium, 6-10 students
Weekly Hours: General 15-25 hrs/wk
Intensive Spanish 20 + 4 Business Spanish

In order to aid students within the business environment Expanish offers Business Spanish courses that are specifically designed for each student.
The course consists of 20 hours of regular group classes and 4 individual classes of business Spanish developed specifically for students seeking to advance their careers in any business environment where Spanish language is an important element. The combination of group and individual will allow students to improve their Spanish skills in the social environment of a group and then have two business Spanish classes to focus on Spanish for professional purposes.
Our Business Spanish Course in Argentina is based on the Spanish that is used everyday in a Spanish-speaking professional environment. Students will be presented the vocabulary and other language components specific to a formal business setting so that they can master the Spanish needed for real-life business situations.

Quick Facts:
Program: 24 hours per week (20 hours group + 4 hours business)
Start Dates: Every Monday
Spanish Level: A2 or higher
Duration: Minimum One Week
Group Schedule: 9am to 12:50pm or 2pm to 5:50pm
Individual Schedule: Two classes per week arranged according to availability
Brochures
Expanish 2019 Brochure

PDF | 4MB added 01.31.2019 Download
Reviews
What students are saying
Sort By:
Get Price