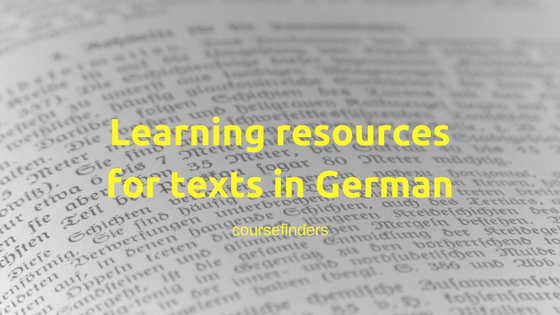 Learning German could be a lot of fun. You could attend a language school in Germany, in Austria or in Switzerland or just learn German in your hometown with others. But also at home you could do a lot to improve your language skills and to read texts in German.
Learning resources to read in German
Reading texts as a language learner means that you have to check always the level of the text. If you are a beginner of German, you won't be able to read a scientific newspaper article. But that's not the problem: You could start with easier texts and get better. But where can you find texts and maybe also exercices relating to it?
Check the following ones or attend a language course!
Here you can find texts from the level A1 to B2. The topics are for example "Meine Stadt" ("My city"), "Berlin" or "Mein bester Freund" ("My best friend"). In addition you could download the texts as PDF or read the text online with the possibility to answer questions relating to the text.
Deutsche Welle offers a lot for persons who want to learn the German language. On the website you could watch videos, read texts and listen to slowly speaken news. In addition you will find material for all levels of the Common European Framework of Reference for Languages.
Daily newspapers and magazines
You could also read daily newspapers or other magazines online. There you will find articles about daily topics, culture, health, lifestyle, cooking and more. Just check them and find your favourite choice to improve your language skills:
Come back to CourseFinders.com for more articles about languages and studying abroad.
Follow us on Facebook and Twitter and don't miss another article on CourseFinders.com!
Find your perfect language school
Search CourseFinders to find the course for you