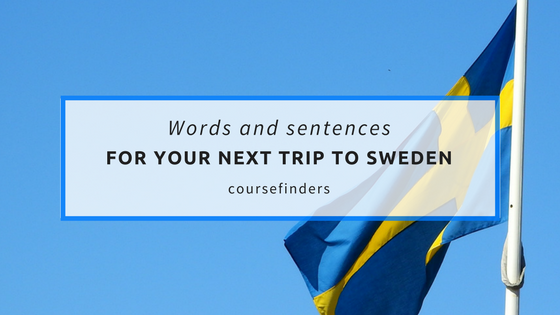 If you want to learn a new language, Swedish could be a good choice. It is very similar to English, German and to other Scandinavian languages. It doesn't matter if you just want to have a good time while travelling or if you want to attend a language school to learn Swedish from the beginning. Swedish means fun and you could start today!
Words and sentences for your next trip to Sweden
Days and months
monday = måndag
tuesday = tisdag
wednesday = onsdag
thursday = torsdag
friday = fredag
saturday = lördag
sunday = söndag
january = januari
february = februari
march = mars
april = april
may = maj
june = juni
july = juli
august = augusti
september = september
october = oktober
november = november
december = december
In a conversation
Good morning! = God morgon!
Hello! = Hej!
How are you? = Hur mår du?
Good. = Bra.
thank you = tack
What's your name? = Hur var namnet?
My name is … = Mitt namn är …
Bye! = Hej då!
Going out for dinner
Where can I find a good restaurant? = Var finns det en bra restaurang?
A table for two. = Ett bord för två.
Where is the bathroom? = Var är toaletterna?
I take … = Jag tar …
The bill, please. = Kan jag få betala?
Shops
farmacy = apotek
bakery = bageri
drug store = färghandel
shopping mall = shoppingcenter
department store = varuhus
souvenir shop = souvenirbutik
newspaper stand = tidningskiosk
supermarket = stormarknad
hairdressing salon = harfrisörska / frisör
Location
right = till höger
left = till vänster
straight ahead = rakd fram
in front of = framför
behind = bakom
next to = bredvid
opposite = mittemot
here = här
there = där
near = nära
far = långt
Would you like to learn more words and sentences in Swedish? You could check our language schools to get in touch with your next one:
Come back to CourseFinders.com for more articles about languages and studying abroad.
Follow us on Facebook and Twitter and don't miss another article on CourseFinders.com!
Find your perfect language school
Search CourseFinders to find the course for you