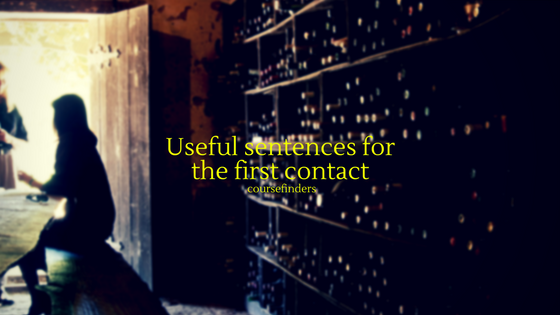 There is always the first moment. The first moment with a new language, the first moment in a new country or the first moment with a new person. But especially with new acquaintances, you will need words to break the ice.
You could also attend a language school to learn the most important words and sentences and to be prepared for your first conversation with a native!
Useful sentences for the first contact
Welcoming
Good morning!
Good afternoon!
Good evening!
Nice to meet you!
It is a pleasure!
Pleasure to meet you!
Hello!
Hi!
Hey!
Greetings!
Saying goodbye
Bye!
Goodbye!
See you soon / in a little while!
See you next Monday, Tuesday, …!
Good night!
Wishes
Have a good trip!
Have a nice day!
Have a good evening!
Have fun!
Good luck!
State of health
How are you?
Fine, thanks.
Very well.
Not bad.
Bad.
Very bad.
It is ok.
Useful questions
What is your name?
Are you German / French / English / …?
Where are you from?
What are your hobbies?
What do you do?
Do you speak any languages?
What do you think?
Could you repeat that please?
What does XX mean?
Could you explain XX?
Useful sentences
I am learning German / English / French / …!
I don't understand.
Polite phrases
I am sorry
Sorry
Excuse me
Thanks / thank you
Thanks a lot
Please
You are welcome
No problem
You could learn these sentences at home or in a language school. But the most important thing is that you speak in the language you learn to improve your language skills.
If you want to learn more useful sentences in different languages, check these articles:
Come back to CourseFinders.com for more articles about languages and studying abroad.
Follow us on Facebook and Twitter and don't miss another article on CourseFinders.com!
Find your perfect language school
Search CourseFinders to find the course for you