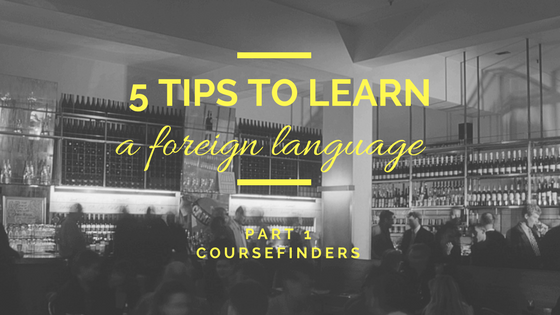 If you want to learn a foreign language, you need time. Time to learn new words, time to learn the grammar and also time to practise the conversation with native speakers. But you don't have to learn always at home. Instead you could go out, meet friends or travel. There are a lot of things that you can do today to make a progress.
5 tips to learn a foreign language
#1 Write a plan to organise your learning.
A plan could help you to organise all tasks you have to do while learning a language. You could choose your learning days and also the times (in the morning, during the afternoon or at night). You are the boss and you could decide if you want
to repeat your vocabulary every day or only three times per week
to read a book in the language your are learning
to use apps to learn a foreign language
…
#2 Make mistakes.
Without making mistakes it isn't possible to learn a foreign language. They show your deficits and help you to get better from day to day. Mistakes are great! Don't forget that.
#3 Learn every day.
Every day learning is the best thing you could do. Only a few minutes per day could help you to improve your language skills. So if you don't have time, learn at least some new words to make a small progress also on busy days.
#4 Have always a small notebook with you.
A new book, the new song in the radio or a new word … a small notebook in your bag could help you to remember these things. Every time you hear or read something new, write it down and use it to learn a foreign language. So maybe you want to read the new book in the language you are learning.
#5 Change your shopping list.
Also daily things could be changed, for example your shopping list. The last times you wrote it in your mother language (right?), but if you want to learn a foreign languauge, you can write it also in another language. So if you learn for example French, write your shopping list in French to learn new vocabulary also in the supermarket and not only at home.
Sometimes it is difficult to learn even though you have a lot of things to do. You have no motivation or you are ill. But learning doesn't mean to sit always at your desk and to study new vocabulary. You could also watch a movie or read a book in your foreign language to keep in touch with your learning progress.
Come back to CourseFinders.com for more articles about languages and studying abroad.
Follow us on Facebook and Twitter and don't miss another article on CourseFinders.com!
Find your perfect language school
Search CourseFinders to find the course for you