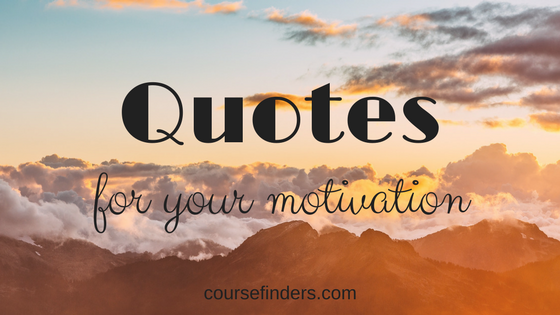 Learning is difficult without motivation because you have no reasons to learn and no goals to attain. You don't know why you should learn new words or practice the new grammar. So how could you find your motivation again?
Motivation is triggered by a lot of things. That could be your next trip to another country, a challenge with a friend or just your own wish to learn a foreign language. It doesn't matter what it is, the important thing is, that there exists something. Learning with friends could motivate you, but also learning alone at home, in a bar or in the nature. You have to decide which things can motivate you to learn new things, for example a new language, and to enjoy them.
Quotes for your motivation
The world breaks everyone, and afterwards, some are strong at the broken places. – Ernest Hemingway

Life is very interesting. In the end, some of your greatest pains become your greatest strengths. – Drew Barrymore

The pessimist sees difficulty in every opportunity. The optimist sees the opportunity in every difficulty. – Winston Churchill

People who are crazy enough to think they can change the world are the ones who do. – Rob Siltanen

Knowing is not enough, we must apply. Wishing is not enough, we must do. – Johann Wolfgang von Goethe

You are never too old to set another goal or to dream a new dream. – C.S. Lewis

Opportunities don't happen, you create them. – Chris Grosser

If you can't explain it simply, you don't understand it well enough. – Albert Einstein

Life is not about finding yourself. Life is about creating yourself. – Lolly Daskal

All progress takes place outside the comfort zone. – Michael John Bobak

The only place where success comes before work is in the dictionary. – Vidal Sassoon
How can you use these quotes?
Quotes are only useful when you read them. So write them down, hang them up and read them as often as you can. You can pin them on your pin board, create a desktop wallpaper with them for your laptop or write a note for your mirror in the bathroom (so you could read the quote while brushing your teeth).
But the most important thing is: These quotes should motivate you. So choose quotes that you really like.
You could find them at home, in a book or or on your next language trip. Keep the eyes open, find the perfect quote for you and get your motivation back.
Come back to CourseFinders.com for more articles about languages and studying abroad.
Follow us on Facebook and Twitter and don't miss another article on CourseFinders.com!
Find your perfect language school
Search CourseFinders to find the course for you