(Los Angeles | United States )
Kings Los Angeles (Occidental)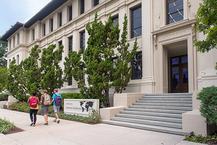 Occidental College
,
Los Angeles
(
view map
)
About
Kings Los Angeles (Occidental)
Our Los Angeles Residential Summer Center is based on the beautiful 120-acre campus of Occidental College, which counts President Barack Obama as an alumnus!

It is conveniently located in Eagle Rock in the Northeast of LA, close to Hollywood, Downtown and many of LA's famous attractions, as well as historic Pasadena. Occidental College is the perfect choice for a safe campus experience in a central city location.

Kings Summer is a sister organisation of Kings Education, a leading group of international colleges in the UK and USA. We have been running successful summer vacation courses for younger students for decades.

At Kings, our summer programmes are designed to be both structured and fun. This way, our students are happy, enthusiastic, and motivated to learn. We offer only the highest standards of teaching and supervision, and make sure that your child's safety and well-being are always our top priorities.

We offer a range of summer courses at Kings, ensuring you can choose a programme that is well-suited to your child's age, abilities and interests. Our courses take place in a variety of sought-after locations across the UK and US, all of which have been carefully selected for their safety, comfort and surroundings.
Activities
Music
Theatre
Cultural tourism (theater, museum, etc.)
Geography
On campus events
Local cultural events (festivals, etc.)
Courses
Junior English Programs
0% 0 Reviews
This course is for students aged: 10-70
Class Sizes: Large, 11-20 students
Location Type: Town/City
Weekly Hours: General 15-25 hrs/wk
Levels: Intermediate, Basic
Summer Course

15 hours of English lessons per week plus full programme of sports, activities and excursions.
Duration 1–6 weeks (1-week bookings accepted for 1 July and 5 August only)
Start dates 1, 8, 15, 22, 29 July, 5 August 2018 (Sunday arrive/ Saturday depart)
End date 11 August 2018
Minimum entry level Beginner
Age range 12–17

More information can be found here - http://www.kingssummer.com/learn/summer-course.html#.Wh6iYbSFh8c
Brochures
Reviews
This school hasn't been reviewed
Videos
This school hasn't added any videos
Get Price