(Brighton | England )
Kings Brighton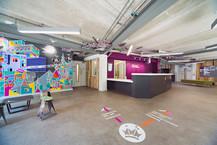 Kings Brighton 27–33 Ditchling Road
,
Brighton
(
view map
)
About
Kings Brighton
Kings Brighton is a brand new state of the art school that opened in 2017 and has an on-site student residence and cafeteria, Brighton is one of the UK's most unique and diverse cities, known as a popular seaside resort, a well-known as a university city, a new media hub and a thriving centre for the arts.

Kings Brighton is located in the vibrant London Road area just a few minutes' walk from the main train station and the central North Laine shopping area. This popular northern quarter of the city has benefited from extensive recent investment, making it one of the city's most up and coming districts.

Kings was originally founded over 50 years ago. With locations in the UK and USA we offer our students a comprehensive choice of high quality English and university preparation courses (Oxford, London and Bournemouth in the UK; Boston, Los Angeles, New York, New York State and New Jersey in the USA).

At Kings, our aim is always to help students exceed their learning goals and aspirations. We recognise that everyone has different needs and abilities, and our personalised approach ensures that they have a learning path which is specific to their requirements.

Our English programmes in the UK include general English courses, exam preparation programmes and our specialist English Plus range, including Art & Design, Business and Finance, and Film. Our academic programmes include GCSE, Advanced Level Foundation, A-levels, Art & Design Preparation Programme and Art Foundation and our students go on to win places at all of the UK's top universities. Kings provides small classes and great results where year after year 80% of Kings graduates progress into the top 20% ranked UK universities.
Additional Services
Airport/Station transfer
Facilities for students with disabilities
Accommodation
Host family accommodation
Student Residence
Courses
Brochures
Reviews
This school hasn't been reviewed
Get Price