(Moncton | Canada )
The Language Learning Centre at McKenzie College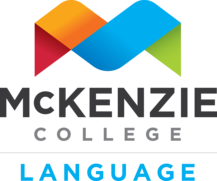 100 Cameron Street, Suite 2002
,
Moncton
(
view map
)
About
The Language Learning Centre at McKenzie College
The Language Centre at McKenzie College is New Brunswick's leading Private English school - the only one currently recognized as a Designated Learning Institution and accredited by Languages Canada.

We specialize in top quality, customizable English courses delivered in small groups. Our students get personal attention from our friendly, highly trained instructors using the most up-to-date materials.

At McKenzie, you have control over your education. Learn general English for everyday life, or focus your studies on Academic, Business, IELTS test preparation, or one-on-one VIP private lessons. We offer classes full-time or part-time on a flexible schedule that fits your lifestyle.

McKenzie is committed to community. We are trusted by world-renowned schools and organizations around the globe. As a result, being a McKenzie student is your pathway to higher studies and life-changing opportunities.
Activities
Historical sightseeing
Hiking
Local cultural events (festivals, etc.)
Geography
University student social events
Cultural tourism (theater, museum, etc.)
Volunteering
Art history
On campus events
Art / Painting
Photography
Music
History
Film
Work and Further Studies
Further academic studies available on campus
Accommodation
Host family accommodation without students of same native language
Host family accommodation
Additional Services
Visa support
Student counselling
Facilities for students with disabilities
Airport/Station transfer
Courses
Brochures
Reviews
This school hasn't been reviewed
Pictures
Videos
This school hasn't added any videos
Get Price