(Toronto | Canada )
English Lab Toronto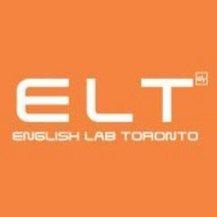 36 Eglinton Ave. West Suite #505
,
Toronto
(
view map
)
About
English Lab Toronto
BEST SPEAKING SCHOOL IN CANADA
Winner of Best Speaking School 5 years in a row.

The objective of English Lab Toronto is to nurture bilingual professionals. The philosophy of ELT is to guarantee improvement in our students' English speaking abilities with a curriculum of combined classes and real world instructors.

Why ELT?
- Unique 1:1 Teaching Methodology: The total number of students is 30, but the total number of teachers is also 30!
- ELT graduates are finding their jobs successfully using their improved English skills. ELT students have successfully been placed at international companies.
- Award Winning Presenter Training
- All of ELT students who pursued colleges are accepted successfully. We guarantee your success!
Courses
General English
0% 0 Reviews
This course is for students aged: 16-70
Levels: Advanced, Basic, Intermediate
Class Sizes: Medium, 6-10 students, Small, 2-5 students
Weekly Hours: General 15-25 hrs/wk, Intensive 25+ hrs/wk

THE GENESIS COURSE
The Genesis Course, aimed at beginning-pre intermediate level ESL students, provides a solid foundation for International students wishing to improve their English. Students will study how to effectively learn grammar, reading, and listening. If you are a beginning-level student, it is the best course where you can improve your English in a very short period of time.


THE CORE COURSE
The Core Course covers all aspects of academic English studies from the Leadership and Bootcamp Course. Without the challenging final tasks that both Leadership and Bootcamp courses have, students can focus more on their English building only. Combined with ELT's signature Mega Conversation Class, this course will take students to the next level of speaking.


THE HYBRID COURSE
The Hybrid Course is an award-winning pronunciation course focused on academic pronunciation, intonation and true communication of English. The instructors focus on improving listening comprehension and truly understanding the nuance and subtexts of the English language. Moreover, they will guide students to apply these skills in the students' speaking.


THE BOOT CAMP ENGLISH COURSE
- Designed as an all-in-one program that focuses on many different skill groups.
- We focus on listening, vocabulary, grammatical structures, pronunciation and speaking clarity.
- Concepts are promoted by a focus on presentation and real-world use of all the gained expressions and vocabulary.
- We build confidence in the quick comprehension and use of English.
- Every Tuesday, Wednesday and Thursday, students encounter, on a rotating basis, multiple native English speakers in 1:1 settings to review what they have learned that day.

Program options:
- Job Interview Bootcamp
- Presentation Bootcamp


1:1 MEGA CONVERSATION CLUB
The goal of this conversation club is to provide a place for native speakers and ESL students to interact. Each week we have a theme/topic or issue on the table to discuss. Some weeks we may try role-playing too to help with real-life situations like doctor/patient interaction or sales/customer service techniques. Each session also starts with a brief group discussion surrounding the topic, which could be something like sales techniques or terms and phrases surrounding the topic.

We are currently holding a 1-to-1 student/teacher ratio with SIX students and SIX native English-speaking teachers working together.
English Pathway Programs
0% 0 Reviews
This course is for students aged: 16-70
Levels: Advanced, Intermediate
Class Sizes: Medium, 6-10 students, Small, 2-5 students
Weekly Hours: General 15-25 hrs/wk

THE LEADERSHIP PATHWAY COURSE
- Pathway Connection to Cambrian College and Lambton College

Our famous Bootcamp course has become renowned for its innovative, multiple teacher approach. Now, in one course, students can be taught at a university level by many different teachers from various professional backgrounds.

With one 12-week course, students learn a wide spectrum of university courses in English and use the knowledge to become an expert in their majors. Through this specially designed methodology, our students will learn tons of vocabulary so they will speak like leaders.

Brochures
Reviews
This school hasn't been reviewed
Get Price