(Toronto | Canada )
Capital English Solutions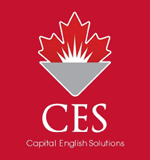 About
Capital English Solutions
Capital English Solutions (CES), founded in late 2012, provides full language and cultural immersion for students by exposing them to an English-only environment, enabling them to learn in a shorter time frame. CES English programs are designed to provide students with enriched English instruction and language, as well as the professional skill sets necessary to excel in their chosen academic or career paths. Our school community offers:

A rich, forward-thinking environment and enjoyable atmosphere that encourages the student's participation and commitment to their studies.
Qualified, dedicated and experienced instructors with a passion to teach and enthusiasm to see their students succeed.
CES is driven by our extensive experience in educating students to satisfy the demands of a highly competitive, technology rich society. Through total immersion in the Canadian culture and a completely English-speaking environment, we provide our students with the opportunity to become fluent in English ensuring their abilities to fulfill the requirements of a successful career both at home and abroad. With an ESL certificate from Capital English Solutions, students are able to take university level courses in English with proficiency and ease.

Our school invites students from around the world: South America, Europe, Eastern Europe, Asia and the Middle East.

We are excited about the quality of the programs we offer to our students which includes intensive English as a Second Language programs, specialized English programs such as Business English and Hospitality English, University Preparation courses as well as TOEFL or IELTS.
Accommodation
Host family accommodation
Shared Apartment
Activities
Cultural tourism (theater, museum, etc.)
On campus events
University student social events
Local cultural events (festivals, etc.)
Courses
Brochures
Reviews
This school hasn't been reviewed
Get Price