(San Diego | United States )
CEL San Diego Pacific Beach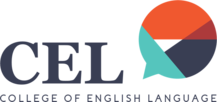 919 Garnet Avenue
,
San Diego
(
view map
)
About
CEL San Diego Pacific Beach
Pacific Beach is a vibrant, seaside neighborhood of San Diego that's popular among Californian surfers, college students and international tourists. PB (as the locals call it) is known for its amazing surf spots, thriving nightlife and mouthwatering seafood. CEL Pacific Beach is situated on Garnett Avenue, making it easy for students to head straight to the beach after class and enjoy local restaurants.

We have 8 modern classrooms, equipped with the latest technology such as TV's and sound systems for easy audio-visual learning. Students are able to enjoy free Wi-Fi, air conditioning throughout the school and a student lounge with a TV. The school also has space for storing surf boards and bicycles, which is convenient for those interested in enjoying leisure activities like surfing and biking on the beach.

In order to achieve maximum academic success, classes are kept small with an average of 6 - 7 students and a maximum of 10 students per class. Our staff is comprised of experienced teachers who are eager to support students achieve mastery of the English language. Interactive methods of teaching engage students in the learning process to help them communicate effectively and with confidence. Our Student Services, Admissions & Housing teams are always available on site and happy to help students with any inquiries.
Additional Services
Water sports
Airport/Station transfer
Student counselling
Visa support
Accommodation
Host family accommodation
Courses
General English
0% 0 Reviews
This course is for students aged: 16-70
Location Type: Seaside, Town/City
Levels: Advanced, Basic, Intermediate
Weekly Hours: General 15-25 hrs/wk
English Exam Preparation
0% 0 Reviews
This course is for students aged: 16-70
Location Type: Seaside, Town/City
Levels: Advanced, Intermediate
Weekly Hours: General 15-25 hrs/wk
Brochures
CEL_Brochure_2016.pdf

PDF | 2MB added 01.13.2016 Download
Reviews
This school hasn't been reviewed
Videos
This school hasn't added any videos
Get Price