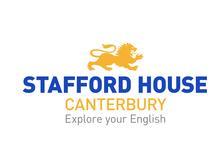 Welcome to Stafford House Canterbury!
Canterbury is in the heart of the Kent countryside, which is known as 'The Garden of England'. This corner of England is rich in history because it is so close to mainland Europe – you will find castles everywhere you go! Paris and Brussels are just a short journey away. Our light, bright school is just moments from the centre of this medieval city, awash with history yet vibrant with student life from the three popular universities that also reside here
Why choose Stafford House Canterbury?
- high quality learning atmosphere
- family environment
- small classes (average 10 students)
- excellent teaching with adaptable study programs
- perfect combination of studying and having fun
- premium facilities and many accommodation options
We look forward to welcoming you!
Stafford House Canterbury Team :)
[email protected]
---
Airport/Station transfer
Student counselling
Visa support
Host family accommodation
Student Residence
Cultural tourism (theater, museum, etc.)
Historical sightseeing
On campus events
Local cultural events (festivals, etc.)
Canterbury_City_Factsheet.pdf