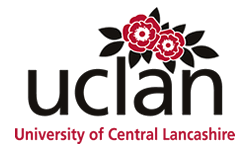 UCLan is one of the UK's largest universities. With a student and staff community approaching 38,000 it is the fifth largest employer in the North West of England. Internationally UCLan has academic partners in all regions of the globe and it is on a world stage that the first class quality of its education was first recognised.
---
| | |
| --- | --- |
| This course is for students aged: | 16-70 |
| Location Type: | University campus |
| Levels: | Basic, Intermediate |
| Weekly Hours: | Relaxed 10-15 hrs/wk |
This module aims to enhance students' ability to communicate in an English speaking environment, extend students' active vocabulary use, revise and consolidate ability to use grammar effectively and develop the skills necessary for independent language learning. Students will develop productive (speaking and writing) and receptive skills (reading and listening) to enhance their communicative ability. Grammar consolidation and vocabulary extension appropriate to moving on from B2 (CEFR) level are also included to enhance accuracy. Students will also be encouraged to become independent language learners.
| | |
| --- | --- |
| This course is for students aged: | 16-70 |
| Location Type: | University campus |
| Levels: | Basic |
If you are an international student hoping to study on an undergraduate or postgraduate course in the UK, a Pre-sessional English for Academic Purposes course will help you:

To improve your English Language (e.g. grammar, vocabulary, pronunciation)
To improve your academic English skills (e.g. for writing assignments, understanding lectures, participating in seminars, reading books and articles, making presentations)
To develop the study skills you need to succeed (e.g. a more independent approach to learning, participating in group work, managing your time, identifying and using sources of information)
To improve your social English and understanding of British culture
To get to know other students from around the world as well as the UK
Students who successfully complete the Pre-sessional English for Academic Purposes course, at the required level for their chosen degree programme, will be deemed to have met the English language requirements for their course at UCLan and do not need to take an additional IELTS test.
| | |
| --- | --- |
| This course is for students aged: | 16-70 |
| Location Type: | University campus |
TESOL with Applied Linguistics will enable you to develop the solid foundation of knowledge and the practical skills you need to teach English to non-native speakers of the language.
This postgraduate degree course will equip you with a thorough grounding in teaching methodology, classroom management, an in-depth knowledge of lexis, grammar and phonology, and the way in which language is learned. It will also help you to develop the analytical and reflective skills you need to continue to develop as a professional.