(Seville | Spain )
Mosaico Spanish Courses (Sevilla)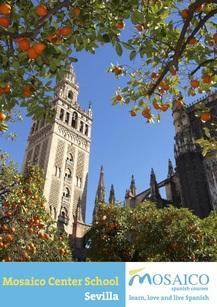 About
Mosaico Spanish Courses (Sevilla)
Learning Spanish in Spain, and especially in Andalusia (Sevilla), will be a unique experience. Besides the fact that you will learn Spanish language, you will also know our cultural, historic, landscape and gastronomic diversity, something essential to understand and speak Spanish.

We wish students at Mosaico Spanish Courses find in us a team exclusively dedicated to Spanish learning.

Our work experience with international students during the last 20 years is our best guarantee and proves our commitment to you.

Mosaico Spanish Courses is a family run company. We are highly committed to our students so that they were satisfied with our learning system, accommodation (host-family and residences) as well a with the activity program.

We encourage you to learn, love and live Spanish.
Additional Services
Airport/Station transfer
Facilities for students with disabilities
Student counselling
Visa support
Accommodation
Host family accommodation
Host family accommodation without students of same native language
In hotel/guesthouse
On campus
Shared Apartment
Student Residence
Work and Further Studies
Work experience / internship with local companies
Activities
Film
Literature
Music
Theatre
Art / Painting
Art history
Cooking
Cultural tourism (theater, museum, etc.)
Hiking
Historical sightseeing
History
Oenology / Enotourism
Photography
On campus events
Volunteering
University student social events
Professional Sports events
Culture Shock presentation
Local cultural events (festivals, etc.)
Courses
Reviews
What students are saying
Sort By:
Get Price