(Tampa | United States )
University of South Florida - English Language Program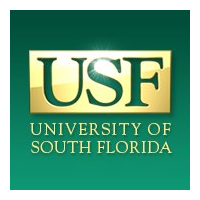 4202 East Fowler Avenue, CPR 107
,
Tampa
(
view map
)
About
University of South Florida - English Language Program
The English Language Program is designed to support the University of South Florida in increasing global literacy level and global engagement by creating and providing an academic learning environment for international students where they have the opportunity to develop and improve their English language proficiency which can serve as a foundation for their success in reaching their academic and professional goals.

The English Language Program offers content-based language courses which help students to obtain knowledge, think critically, communicate ideas, and demonstrate their competence in English through integrated tasks and projects.
Courses
General English
0% 0 Reviews
This course is for students aged: 16-70
Location Type: University campus
Levels: Advanced, Basic, Intermediate
Class Sizes: Large, 11-20 students, Medium, 6-10 students, One-to-One, Small, 2-5 students
Weekly Hours: General 15-25 hrs/wk
The General English program is aimed at improving your listening, speaking, reading and writing skills while learning about American culture. The program helps students put language learned in class into immediate practical use through hands-on tasks, assignments and creative projects. Learning experience is enhanced by field trips to places of interest and importance.


The General English program consists of 4-week sessions with monthly entry points, making it a flexible option for all students. We offer General English classes at three levels, from threshold to advanced. In addition to having 18 hours of classes a week, we offer many fun and educational outside-of-class activities.

The General English program is for anyone who wants to improve their English. INTO USF hopes that studying at this university will improve students' communication skills and give them a competitive advantage in the global job market and meet their personal aspirations.
English Academic preparation
0% 0 Reviews
This course is for students aged: 16-70
Location Type: University campus
Levels: Advanced, Basic, Intermediate
Weekly Hours: General 15-25 hrs/wk

The Academic English Program provides intensive language training from beginner to advanced levels. As well as improving written and spoken English, the program teaches the development of academic skills that will prepare students for undergraduate or postgraduate study in a U.S. university.

- Teaches English needed for success in an American college or university
- Provides an innovative project and content based curriculum
- Offers 6 levels
- Runs 3 semesters per year (Fall, Spring and Summer)
- 18 - 20 hours of per weeks of instruction
- 3 additional hours available for learning within student interest groups

Brochures
Reviews
This school hasn't been reviewed
Get Price