(Ottawa | Canada )
University of Ottawa - Second Language Institute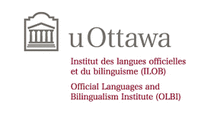 600 King Edward Avenue
,
Ottawa
(
view map
)
About
University of Ottawa - Second Language Institute
We are an integral part of the University of Ottawa's vision for the future, where teaching excellence and innovation complement the institution's commitment to bilingualism.

As a new Canadian standard bearer for official languages and bilingualism, OLBI strengthens and promotes education and research in the fields of teaching, evaluation and language policy design. It also brings together the University of Ottawa's experts in official languages and bilingualism in four areas:

Teaching;
Research;
Testing and evaluation;
Development and promotion.
We opened officially on July 1, 2007 to pursue the key role played until then by the Second Language Institute (SLI) at the University of Ottawa. For more than 40 years, the SLI had been a cornerstone in the promotion of second languages at the University, enjoying an enviable reputation on both the teaching and research fronts.

OLBI wants to build on these accomplishments. We want to strengthen our research, innovation and outreach efforts in official languages and bilingualism. We also want to meet the French and English second language learning needs of a large and diverse population on campus and beyond. And we plan to innovate by designing programs at the cutting edge of educational science.

Ultimately, OLBI strives to stand as a national and international authority in the field of bilingualism and official languages. We will continue to act as a breeding ground for innovation and fresh ideas, where anyone dedicated to expanding and sharing our knowledge of bilingualism can join forces in achieving that goal.
Courses
Brochures
Reviews
This school hasn't been reviewed
Videos
This school hasn't added any videos
Get Price