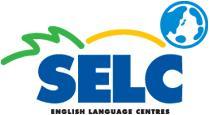 Level 2, 19/23 Hollywood Avenue, PO Box 1900 - Bondi Junction
For over 30 years, SELC has maintained its reputation as a leading English language college with a long history of offering professionally developed specialised and traditional English courses.
We invest in excellent teachers, ensuring that all SELC's programs are of the highest quality and that our learning environment is the best possible. We hope you will take the opportunity to learn and grow with SELC!
At SELC, we understand that different students have different needs when it comes to language learning, accommodation, and services. We're confident you'll find what you're looking for at SELC.

---
Football/Soccer
Golf
Table tennis
Tennis
Volleyball
Squash
Surfing
Host family accommodation
Student Residence
Student legally permitted to work / earn money during course
Work experience / internship with local companies
Film
Cultural tourism (theater, museum, etc.)
Historical sightseeing
On campus events
University student social events
| | |
| --- | --- |
| This course is for students aged: | 16-70 |
| Location Type: | University campus |
| Levels: | Advanced, Basic, Intermediate |
| Class Sizes: | Large, 11-20 students, Medium, 6-10 students, One-to-One, Small, 2-5 students |
This course aims at developing students' overall proficiency in the four skills (speaking, listening, reading and writing) in general or everyday contexts. Students at lower levels also take part in weekly skills development electives to improve their areas of weakness in either reading and writing or speaking and listening while students at higher levels choose special interest focus electives in areas such as Listening & Speaking, Grammar and Writing, Business English, Australian Studies in Culture and Sport, English for Photography and Introduction to Cambridge Preparation.
| | |
| --- | --- |
| This course is for students aged: | 16-70 |
| Location Type: | University campus |
| Levels: | Advanced |
| Weekly Hours: | Intensive 25+ hrs/wk |
Cambridge tests have always been popular in Europe and are increasing in popularity in Asian and South/Latin American countries. Our Cambridge Preparation courses familiarise students with exam format and equip them with the skills and strategies needed for success in the Cambridge English First (FCE), Cambridge English Advanced (CAE) and Cambridge English Proficiency (CPE) tests.
| | |
| --- | --- |
| This course is for students aged: | 16-70 |
| Levels: | Advanced |
Aimed at people working in international business or those wishing to do so, the SELC English for Business Communication course offers all the language and cultural skills needed by people who use English for their work. Students participate in real-life business projects including presentations, meetings and negotiations, as well as attending interesting lectures and varied excursions.