(Fairfield | United States )
Sacred Heart University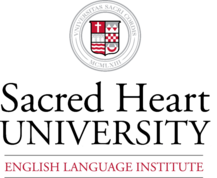 About
Sacred Heart University
The English Language Institute (ELI) at Sacred Heart University offers high quality English Language instruction to non-native speakers of English. The program offer many exciting ways to practice English outside the classroom and make new friends.

With a CEA accredited day-time Intensive English Program, as well programs at night and online, you are guaranteed a convenient, quality education. All instructors have earned a Master's Degree and have many years of quality experience in the field of Adult ESL instruction for academic purposes. Classes are small in size (10 to 14 students) in order to ensure a successful education experience for all students. The ELI is an integral part of Sacred Heart University, where our students can participate in campus activities and events, as well as meet other students. Individual tutoring and conversation partners are available to all full-time students. Programs are designed for students who are 17 and older.

ABOUT SACRED HEART UNIVERSITY

Founded in 1963, Sacred Heart University (SHU) is a Catholic, private co-educational, four-year liberal arts institution granting bachelor's and master's degrees, as well as doctorate degrees.

For the past six years, Sacred Heart University has been listed among the top institutions in the North by U.S. News & World Report. The University comprises six distinct colleges and one school: College of Arts & Sciences; School of Communication & Media Arts; School of Computing, College of Health Professions; College of Nursing; Isabelle Farrington College of Education; and the AACSB-accredited Jack Welch College of Business, committed to educating students in the leadership tradition and legacy of Jack Welch.

Surrounded by residential neighborhoods, the Sacred Heart campus is safe, tree-lined, and easy to navigate. SHU's location in Fairfield County, Connecticut means proximity to world-class hospitals; nationally-ranked elementary and secondary schools; and a high concentration of Fortune 500 corporations located in Connecticut's "creative corridor," along with a central location between New York City and Boston.
Additional Services
Facilities for students with disabilities
Visa support
Accommodation
Shared Apartment
Host family accommodation without students of same native language
Host family accommodation
In hotel/guesthouse
Work and Further Studies
Language and Au pair study
Further academic studies available on campus
Activities
Local cultural events (festivals, etc.)
Culture Shock presentation
University student social events
Volunteering
On campus events
Fashion
Cultural tourism (theater, museum, etc.)
Courses
Reviews
What students are saying
Sort By:
Get Price