(Bologna | Italy )
Madrelingua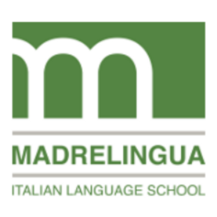 About
Madrelingua
Madrelingua Italian School was founded in 2005 by Stefi and Daniel, an Italian/English couple of language teachers, and quickly gained a reputation as one of the best places to learn to actually speak Italian! Situated in a historic building in a typical porticoed street right in the centre of Bologna, it is 200 metres from Via Indipendenza, and less than five minutes walk from Piazza Maggiore. That's us on the first floor – you can see our logo in the window! We have 10 classrooms. Each room has space for up to 10 students, and is equipped with audio, TV, DVD, and dictionaries in Italian so you can check unknown words.

In the library is where you will find the "afternoon tutor", who will talk to you in Italian or help you with your homework or study problems. It's a spacious, light room where you can study when you are not in class. There is a selection of grammar books and bi-lingual dictionaries (i.e. Russian-Italian, English-Italian, Japanese-Italian) for you to use, and plenty of room to sit and study or read a magazine. Sometimes we use the room for social events, such as the wine-tasting, or occasionally as a classroom. If the library is occupied, you can do your self-study in the multimedia classroom instead!
The library is also equipped with computers offering free internet access. There's also free WiFi throughout the building, so you can use your smart phone or i-pad to stay in touch wherever you are in the school. Just ask at reception for the password.

Bologna, nicknamed the "red" (for its roofs), the "learned" (home to Europe's oldest university) and the "fat" (the world-famous cuisine), is the perfect place for Italian courses in Italy! As the regional capital of Emilia-Romagna, home to one of Italy's major universities and a thriving engineering industry, Bologna is a wealthy, well-educated city and so boasts many fine restaurants, museums and theatres. There are, of course, many students and young people, so the night-life and general "buzz" is excellent. In short, Bologna has everything Italy can offer (history, cityscapes, countryside, fine dining and wines), all within easy walking distance, and all without the crowds or the queues of the more obvious Italian destinations!
Activities
On campus events
Architecture
Historical sightseeing
Cultural tourism (theater, museum, etc.)
Cooking
Oenology / Enotourism
Accommodation
Host family accommodation
In hotel/guesthouse
Shared Apartment
Own apartment
Courses
Brochures
Reviews
This school hasn't been reviewed
Videos
This school hasn't added any videos
Get Price