(Oviedo | Spain )
Alce Idiomas-THE ASTURIAS LANGUAGE COLLEGE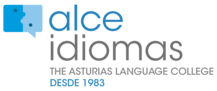 About
Alce Idiomas-THE ASTURIAS LANGUAGE COLLEGE
Alce Idiomas - THE ASTURIAS LANGUAGE COLLEGE. is a totally private boutique language school founded in 1983 and located in Oviedo, capital city of the Principality of Asturias in Northern Spain. All the year round we provide SPANISH - ENGLISH - GERMAN - FRENCH - ITALIAN - PORTUGUESE and CHINESE language courses - International Cultural Exchange Programmes and stays with accommodation and well structured and organised social activities and sports, in Spain and abroad, for CHILDREN - ADOLESCENTS - JUNIORS - ADULTS and SENIORS. Our students learn in a highly professional, safe, warm and friendly environment and we pride ourselves on the fact that we are a small and personal school that supplies expert tuition with a chance to discover and enjoy the real Spain. Our students of SPANISH as a foreign language (ELE) can take English, German, French, Italian, Portuguese, and Chinese classes at reduced prices.
Alce Idiomas-THE ASTURIAS LANGUAGE COLLEGE is a member of ACEIPA authorised centre for the Cambridge University Examinations ES-072.
Alce Idiomas, International Programmes, is also in Santiago de Querétaro, MEXICO. For further details we kindly invite you to visit our websites, www.alceidiomas.org - www.alceidiomas.com " QUALITY, EXPERIENCE, EFFICIENCY, RESULTS is our motto.
Activities
Dancing
Film
Literature
Music
Theatre
Art / Painting
Cultural tourism (theater, museum, etc.)
Geography
Hiking
Historical sightseeing
History
Professional Sports events
Local cultural events (festivals, etc.)
Art history
University student social events
Rock climbing
Culture Shock presentation
Work and Further Studies
Language and Au pair study
Sports
Surfing
Snowboarding
Tennis
Swimming
Skiing
Mountaineering
Basketball
Climbing
Dance
Football/Soccer
Golf
Jazz dance
Riding
Hang gliding
Accommodation
Host family accommodation
Host family accommodation without students of same native language
In hotel/guesthouse
Shared Apartment
Student Residence
Additional Services
Airport/Station transfer
Facilities for students with disabilities
Student counselling
Visa support
Courses
General Spanish
0% 0 Reviews
This course is for students aged: 16-70
Levels: Advanced, Basic, Intermediate
Class Sizes: Large, 11-20 students, Medium, 6-10 students, One-to-One, Small, 2-5 students
Brochures
Reviews
This school hasn't been reviewed
Pictures
Videos
This school hasn't added any videos
Get Price