(Granada | Spain )
Escuela Montalbán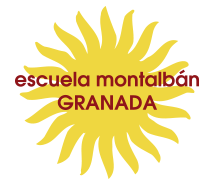 About
Escuela Montalbán
Escuela Montalban has been teaching Spanish as a foreign language since 1986 in Granada, one of the most fascinating cities in Andalusia. The Spanish courses are held throughout the year. The friendly atmosphere and personal touch of our Spanish classes as well as Granada's Andalusian charm will turn your language holidays into an unforgettable experience.

The school building, characterised by its Andalusian style, its friendly classrooms, and its beautiful courtyard, retains much of the charm and intimacy of a family home. It is situated in a quiet location just ten minutes away from the city centre. Students from all over the world and from different age groups participate in our language programme throughout the year. An extensive cultural programme always complements the courses.

We are accredited by the Spanish Instituto Cervantes since 2002. With 1000 students every year we can be considered as a medium-sized Spanish language school.
Sports
Climbing
Dance
Mountaineering
Riding
Additional Services
Airport/Station transfer
Student counselling
Visa support
Accommodation
Host family accommodation
Host family accommodation without students of same native language
Own apartment
In hotel/guesthouse
Shared Apartment
Student Residence
Activities
Culture Shock presentation
Professional Sports events
University student social events
Art / Painting
Dancing
Film
Literature
Music
Sauna / Wellness
Theatre
Art history
Cooking
Cultural tourism (theater, museum, etc.)
Hiking
Historical sightseeing
History
Photography
Rock climbing
Local cultural events (festivals, etc.)
Work and Further Studies
Work experience / internship with local companies
Courses
Brochures
Reviews
What students are saying
Sort By:
Get Price